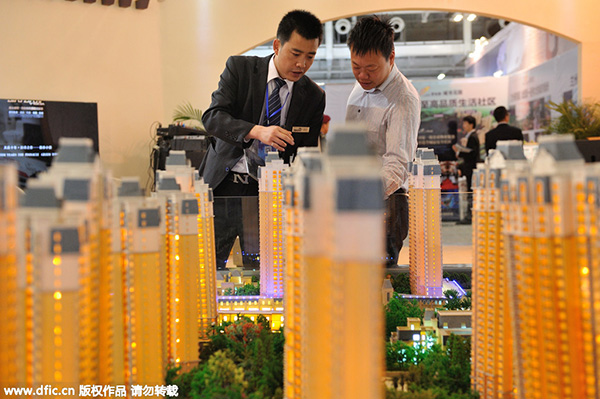 A Chinese employee introduces models of residential apartment buildings to a homebuyer during a real estate fair in Lanzhou city, northwest China's Gansu province, May 16, 2015. [Photo / IC]
BEIJING -- China's housing market continued to show signs of improvement in May with new home prices in an increasing number of cities surveyed registering month-on-month increases.
Of 70 large and medium-sized cities surveyed, new home prices climbed in 20 in May from the previous month, up from 18 in April, while 43 reporting month-on-month price declines, down from April's 48, according to data released on Thursday by the National Bureau of Statistics.
Related reading:
China property market likely to bottom out, By Xinhua
China's real estate market, widely scrutinized for its significance to the world's second largest economy, has shown glimmering signs of bottoming out in big cities.
The property market remains largely anemic, but a string of indicators show the sector's decline may be coming to an end in China's major cities.
In the first five months, home sales volume in first and second-tier cities increased by 41 percent and 13.4 percent, respectively, according to the National Bureau of Statistics (NBS).
In Guangzhou, 9,313 homes were sold last month, hitting a yearly record for the city. In Shenzhen, some newly-opened housing projects sold out in just a day.
In Beijing, 121 homes with a price of more than 100,000 yuan ($16,300) per square meter were sold from January to May - 17 times the level in the same period last year, according to market tracker Yahao.
"The real estate market is clearly warming up," said Wang Baobin, a senior NBS statistician.