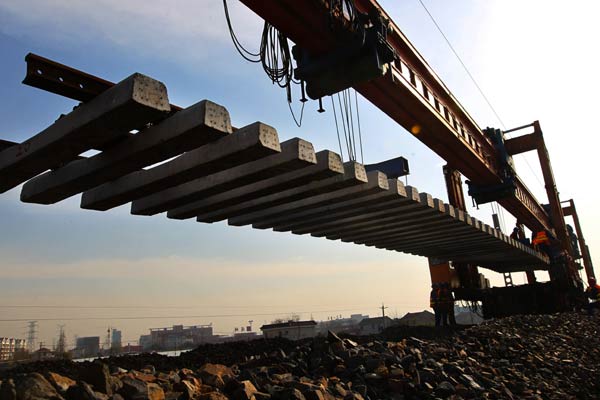 Rail tracks are laid on a route in Nantong, Jiangsu province. [Photo/China Daily]
State Council spurs economic growth with new construction projects worth over 120b yuan
China will shore up effective investments, mainly in the infrastructure sector, where raw materials are at relatively low prices, to halt the nation's economic slowdown, the State Council decided at an executive meeting on Wednesday.
As part of its efforts, the central government will pay to upgrade power grids in rural areas, improve grain storage facilities, and upgrade wastewater treatment facilities and other projects in urban areas.
The increased spending will attract more local and private investment, and benefit people's livelihoods, said a statement released after the meeting presided over by Premier Li Keqiang.
The State Council, China's cabinet, pledged to speed up construction of seven major projects, including water conservancy and railways in the less-developed central and western regions.
Efforts will also be made to map out new industries, improve the manufacturing industry's competitiveness and boost modern logistics and urban rail transport, the State Council statement said.
To sustain the growth of effective investment, the State Council pledged at the meeting to guide financial organizations to accelerate approval of loans to key and public-private partnership projects.
Infrastructure investment is seen as a key measure to stabilize growth in the world's second-largest economy, which grew by 7.4 percent in 2014, its weakest annual expansion in 24 years.
China's fixed asset investment recovered slightly in May due to increases in the manufacturing and property sectors, official data showed.
Adding to the infrastructure push, China's top economic planner announced last week it had approved feasibility reports on seven new projects, a sign of increased fiscal spending to spur growth.
The projects, including railways and airports, have a combined investment of over 120 billion yuan  ($19.7 billion), the National Development and Reform Commission said.
Xu Hongcai, an economist at the China Center for International Economic Exchanges, said China could seize opportunities from the grim economic outlook globally, such as the current low prices of construction materials.