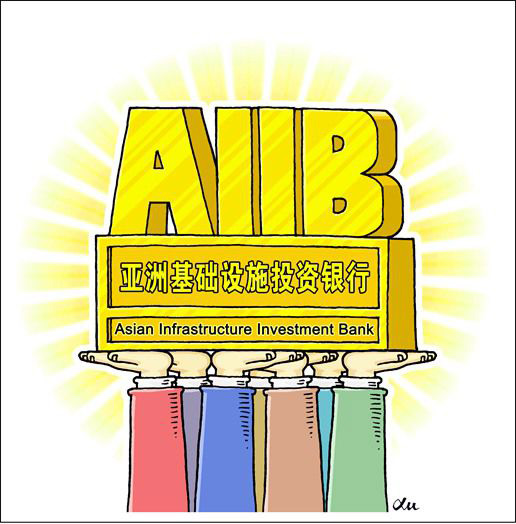 China will retain "veto power" over major decisions by the Asian Infrastructure Investment Bank but relinquish that for day-to-day decisions, as part of Beijing's broad-based efforts to build a lean, efficient lending institution. [Photo/Xinhua]
Voting structure gives nation an upper hand in major decisions on AIIB operations
China will retain "veto power" over major decisions by the Asian Infrastructure Investment Bank but relinquish that for day-to-day decisions, as part of Beijing's broad-based efforts to build a lean, efficient lending institution, according to media reports.
The nation has gained between 25 and 30 percent of the total votes of the emerging multilateral lender, which give it the power to block major motions involving structure, membership, capital increases and other significant issues that require a "super majority" of at least 75 percent of votes, both The Wall Street Journal and Reuters reported, claiming they had viewed the draft articles of association.
The Finance Ministry said on May 22 that the 57 prospective founding members of the AIIB had agreed on the text of the articles of association at a three-day meeting in Singapore. It will be signed at the end of June and will then be presented to each nation's legislature for approval.
The ministry did not disclose the content of the AOA, and declined to confirm media reports.
China's decision to forgo its outright veto power in day-to-day operations has also helped win over some key founding members, The Wall Street Journal said. However, China still has an upper hand as the largest shareholder, and is the only country to wield a veto power over major decisions, as opposed to previous reports that China had relinquished the power to win support.
According to the AOA, China is providing $29.78 billion of the bank's $100 billion capital base. India contributes $8.36 billion, Russia $6.53 billion and South Korea $3.74 billion. Outside the Asian-Pacific region, Germany's allocation is $4.48 billion, France $3.37 billion and Brazil $3.18 billion.
Voting shares are apportioned according to a complex formula that factors in each member's capital contribution, the size of its economy, basic votes each member receives equally plus another 600 votes allocated to each founding member.
This would translate into a 25 to 30 percent vote for China, the Journal said. India would be the second-largest shareholder with a 7.5 percent voting rights, while Germany has gained a 4.1 percent stake, the largest outside the region, Reuters said.
Xiao Lian, director of the Center for America Studies under the Chinese Academy of Social Sciences, said a veto power would improve efficiency of the decision-making at the lender.
Asked if the power would incur criticism from the United States, which has consistently expressed concern over the governance of the AIIB, he said: "We're just imitating the US. If the US can wield veto power in the International Monetary Fund, why can't we?"
To streamline bureaucracy and cut costs, the AIIB will be overseen by an unpaid, nonresident board of directors. The new bank will open bidding for projects to all, unlike the Asian Development Bank, which restricts contracts to member countries, the Journal said.