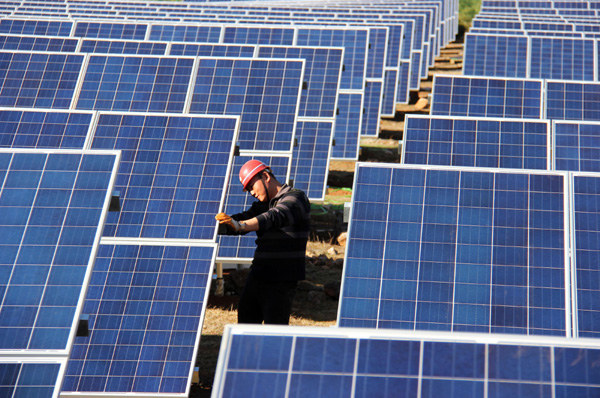 A worker installs solar panels at a solar photovoltaic power plant under construction in Weining, Guizhou province. [Photo/China Daily]
Innovative kind of financial instrument will benefit the country's environmental efforts
China has the potential to become the world's largest market for green bonds because of its government's commitment to tackle pollution by setting up a green financial system, experts say. The government's move to promote green bonds could set an example for other countries, they say, and produce the critical mass for the green-bond market to take off globally.
Green bonds are a new but rapidly growing asset class, of which about $40 billion worth have been issued globally, but in China it is estimated that at least 2 trillion yuan ($300 billion) is needed to achieve China's environmental targets under the 13th Five-Year Plan (2016-20).
Such figures demonstrate the enormous potential for China to become a world leader in green bonds. To make the most of these opportunities, the Chinese government established the Green Finance Task Force last year, for which rules and incentives are now being formulated to grow China's green bond market.
"China has a great need to improve the environment," says Klaus Eklund, an economist with the Swedish bank SEB. "Meanwhile, it has high savings ratios in private households, so a huge pool of capital can be directed into green projects. Finally, the Chinese government has realized that it needs to play a role in growing the green bond market under the 'new normal'.
"Developing a mature green bond market means that financial market forces can be redirected to make the environment cleaner. The previous growth strategy of China was founded on cheap capital, and China is now trying to reach a new normal with environmentally clean projects as one key focus."
The contribution of Eklund's team at SEB has been considerable. In fact it is credited with coming up with the idea of green bonds, which it presented to the World Bank in 2007. The bank later created guidelines for green bonds and issued the first ones in collaboration with SEB the following year.
The proceeds of green bond financing are channeled into climate change projects, and their rise has coincided with the increasing awareness of climate change issues and an increasing number of individual investors and funds willing to invest in such bonds.
The first green bonds issued were for a relatively small amount, in the tens of millions of dollars, and investors were few. But over the years many more government institutions, non-government organizations and private companies have issued them.
Last year, green bonds worth $36.6 billion were issued, more than triple the amount in 2013. But enormous potential still exists in this market, given that the International Energy Agency says $13.5 trillion must be invested in low-carbon energy by 2035 to reduce emissions.
Heike Reichelt, head of investor relations and new products at the World Bank, says that while the bank played an important role in setting the foundation for the green bond market, it has greatly diversified in terms of issuers and credit categories, and this will continue.
"The green bond market is also catalyzing a broader development of a more sustainable and responsible capital market in general. There is a very direct dialogue between investors and issuers, and investors are asking about the social and environmental impact of their investments, not just about the financial characteristics."
Since the World Bank developed the first green bond in response to demand from Scandinavian pension funds, it has issued more than $8 billion worth of green bonds in 18 different currencies and 90 different green bond transactions. A third of the projects that the World Bank's green bonds support are in China, Reichelt says.
Besides growing China's domestic green bond market, the emergence of renminbi-denominated green bonds in offshore markets could also play an important role in helping China to reform and open up its capital markets, and internationalize the renminbi.