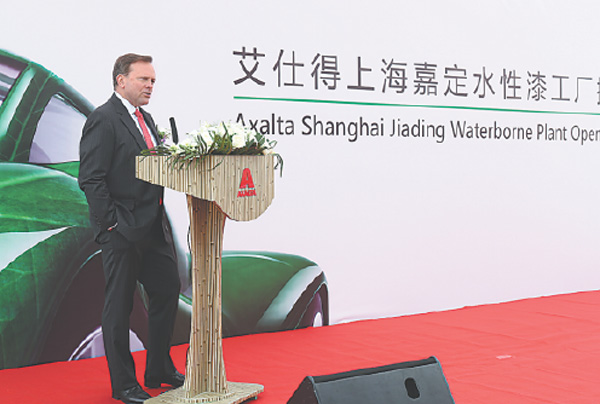 Charles Shaver, CEO of Axalta Coating Systems, said China still has a pro-business environment and anticipates further growth in the market. [Photo/China Daily]
China still an important market for global manufacturing success, says Axalta chief
Even as some foreign enterprises are searching for greener pastures to offset lower economic growth, rising labor costs and higher expenditure on environmentally friendly plants in China, companies like Axalta still believe that the grass is greener in the world's second-largest economy.
Charles Shaver, chief executive officer of Axalta Coating Systems, a leading global supplier of liquid and powder coatings, however, remains undaunted by some companies moving to countries like Thailand, the Philippines and India. The chemical industry veteran, with more than three decades of experience, believes that China is still far ahead of others in terms of the potential for sustained growth and robust development.
As leader of the world's second-largest waterborne coating products and services provider and a major coating supplier to the transportation and industrial sectors, Shaver should know better as Axalta has seen a period of steady and consistent growth in China.
Unlike most of his peers, Shaver has ample experience in the China market, dating back to his first visit to the country in 1986. Decades of working closely with the China market have made Shaver believe that understanding the market, the staff and the clients is key to making the right decisions in China.
"Axalta operates around the globe, and every market has its particular opportunities and challenges. We believe that understanding the localities is the key to success. China is so vast and even two neighboring cities may favor different colors for coatings. So it is really important to understand the local market demands, and cater to the needs," he said.
Axalta was formed in 2012 when chemicals giant DuPont sold its paint business to the Carlisle group. Headquartered in Philadelphia, the United States, the company has several well-known paint brands like Duco, Dulux, Lucite and Imron under its banner.
Last month, Warren Buffett's Berkshire Hathaway said it was buying a 9 percent stake in the company.
Yet another key attribute for Axalta's sustained growth would be talent. Shaver said that he plans to add to the roughly 2,000 people it already has in China.
"We want to see more Chinese talent in leadership positions because they have direct knowledge including consumers' spending habits, client demands, policies and regulations, and the particular demands for each product and service," he said.
Last year, about 19.6 million cars were sold in China, and the number is expected to grow further this year, according to data from the China Association of Automobile Manufacturers. That, Shaver said, will trigger further demand for industrial coatings.
With the global economy recovering, demand for coatings may pick up in the next few years, and the sector may see further growth in 2015 and 2016, according to the China Coating Industry Association.