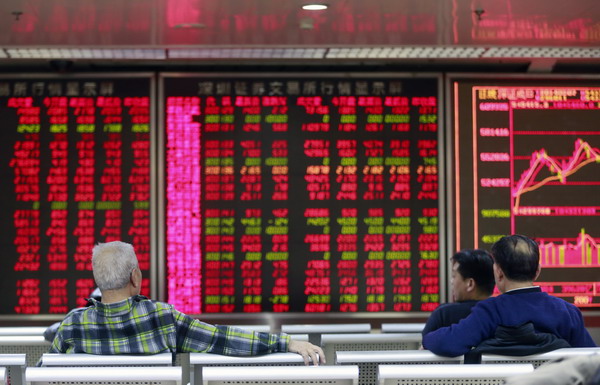 Investors at a securities brokerage in Beijing, Feb 7, 2014. Feng Yongbin / China Daily
NEW YORK -- The Chinese stock market has become the best performing stock market globally, which reflects China's strong economic prospects, US experts said.
Chinese stocks have rallied in the past few months, with the benchmark Shanghai Composite Index growing over 13 percent in the first quarter this year from about 3,200 points to almost 4,500.
Keith Bliss, senior vice-president at Cuttone & Co, told Xinhua in a recent interview that the stock market has moved up rapidly because the Chinese economy has embarked on a transformation course. "There is a lot of room to grow," he said.
Trading in the Chinese stock market has been so active that the combined turnover for the Shanghai and Shenzhen bourses hit a record $294.42 billion on April 20.
Besides, new Chinese stock accounts increased by 433 percent year on year in the first quarter to reach almost 8 million.
Some said that this rush to invest has raised concerns that the market is overheated and that there are a lot of bubbles.
"I would not call it 'bubble' because we don't see it overbought to the types of extremes," Bliss said.
Brendan Ahern, managing director of US Financial Consultant Krane Shares, echoed Bliss' opinion.
The Chinese stock market remains below the all-time high while many global indices have risen well above their all-time highs, Ahern said, adding that Chinese State-owned enterprise reforms are still in their early stages with reasonable equity valuations.
"The last bubble was in 2007 when the price to earnings ratio rose to 50 versus just over 20 today," Ahern said, adding that China's GDP growth is the envy of the global economy.
The world's second largest economy growing 7 percent is a remarkable accomplishment. "The stock market is simply reflecting China's strong economic prospects," he said.
Experts believe that the stock market boom reflects investors' expectations for future economic reform in China, and warned against possible risks of violent fluctuations in the coming days.
"Investors should be aware that corrections and pullbacks will occur and are signs of a healthy market. Prudence and patience are keys for successful investment," Ahern said.
For his part, Bliss said the trading in Chinese stocks will be choppy in the next four months to one year, depending on various factors ranging from possible moves by China's central bank to underlying problems including the shadow banking industry.
"There are still some entanglements that need to be removed to build a mature market-based economy," Bliss said. "From my view, the Chinese economy is clearly moving that way. It's giving people opportunity to invest and giving people around the world the courage and confidence to continue to invest in the Chinese economy."