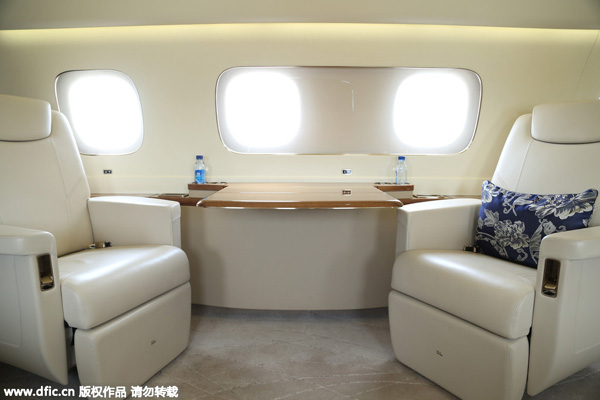 Business people began to realize the convenience and privacy business jets provide after the 2003 SARS outbreak suspended many public flights. [Photo/IC] 
Industry insiders voice optimism about new heights for charter flights and private jets despite declining business, Liu Zhihua reports
The three-day 2015 Asian Business Aviation Conference and Exhibition in Shanghai was "the strongest edition of the show in its 10-year history", its organizer, the National Business Aviation Association, said after its April 16 conclusion.
The continent's largest aviation-industry event this year featured 183 exhibitors-a fivefold increase over its first show.
It exhibited 38 aircraft on static display. That is about the same number as last year's but three times that of its debut a decade ago. It showed a range of products, from pistons to international jets and even helicopters.
Attendees hailed from more than 40 countries. Over 40 percent of exhibitors were Asia-based, the highest proportion to date.
"This was a big and exciting week ... it is clear that a high-water mark has been reached, not only for ABACE, but for business aviation in China and across Asia," NBAA President and CEO Ed Bolen said in a news release.
But business aviation dealer Wang Lin (not her real name) said the exhibition showed sellers are more eager than buyers in China.
"There were more exhibitors this year than last year, and all the industry leaders came," Wang said.
"Perhaps it was because the weather was rainy and cold, but it seemed there were fewer buyers than last year. The atmosphere wasn't as energized."
She said salespeople wax nostalgically about bygone golden days.
Chinese companies' purchases of business jets have continued to decline to 35 last year since they peaked at 55 in 2011, The Financial Times quoted aviation-data provider Jetnet figures as showing.
Charters have halved since the 18th Party congress, after which the industry lost all business from government officials and State-owned enterprises, the report quoted NetJets China Business Aviation vice-chair Eric Wong as saying.
Yet Wong believed insufficient infrastructure is the greatest challenge, the report said.