Top planner says mechanisms in place to kickstart investment in seven key sectors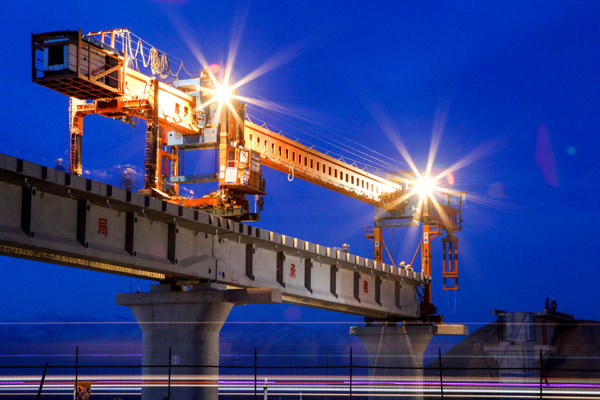 Engineers work at a railway bridge near Hami, Xinjiang Uygur autonomous region, on April 20, 2015. The country's new railway development fund has raised 8.2 billion yuan, while top oil refiner China Petroleum & Chemical Corp has attracted more than 100 billion yuan of private capital to restructure the company's business. [Cai Zengle / for China Daily]
The nation's top economic planning agency will launch several large infrastructure projects to blunt the impact of decelerating economic growth, an official of the body told a news conference in Beijing on Friday.
The National Development and Reform Commission has boosted investment in seven sectors since September, the official said. They are environmental protection, clean energy, healthcare and senior-care services, food, water, transportation and ancillary services for oil, natural gas and mining.
The commission has established a mechanism that allows project adjustment and the timely addition of new qualified projects, said Luo Guosan, deputy director-general of the investment department. He did not specify what would be included in the newly added projects.
"Investment growth has declined substantially. However, infrastructure investment has maintained momentum thanks to large projects," he said.
Urban fixed-asset investment rose 13.5 percent year-on-year to 7.75 trillion yuan ($1.26 trillion) in the first quarter, down 4.1 percentage points from a year earlier. Infrastructure investment was a highlight, with an increase of 23.1 percent.
The government has encouraged private investment as it moves to develop a mixed-ownership model in State-owned enterprises and sectors such as water conservation, senior-care services, transportation infrastructure and hydroelectric power stations.
The new railway development fund has raised 8.2 billion yuan, while top oil refiner China Petroleum & Chemical Corp has attracted more than 100 billion yuan of private capital to restructure the company's business.
GDP grew 7 percent year-on-year in the first quarter, the weakest in six years. The economy is still "within a reasonable level", said Cong Liang, deputy head of the NDRC's department of national economy. The employment situation remains relatively stable in most regions, he said.
In addition, the consumer price index, a main gauge of inflation, increased only 1.2 percent year-on-year in the first quarter. "That's below the 3 percent upper limit that we have set," he said.
High-tech companies reported growth of 11.4 percent year-on-year in the first quarter. The new driving forces in this sector include information technology, bio-medicine, advanced equipment, alternative energy, e-commerce and logistics.
Maintaining an economic growth at around 7 percent means an increment of $800 billion per year in GDP, which is equal to the total economy of 1995.