Cost-cutting program planned; further challenges expected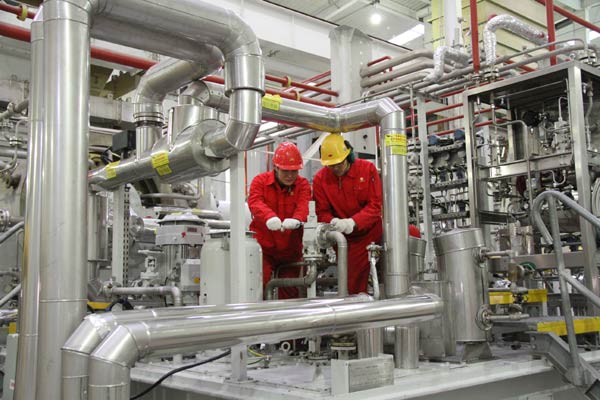 Workers of PetroChina Co check facilities in Qinshui county, Shanxi province. The company reported a 17.3 percent decline in net profit last year amid falling oil prices. [CHEN YUANZI/FOR CHINA DAILY]
PetroChina Co, the listed arm of the country's biggest oil and gas producer China National Petroleum Corp, has reported a 17.3 percent fall in net profit for last year.
The State-owned oil giant delivered a profit of 107.17 billion yuan ($17.25 billion) for 2014, down from 129.6 billion in the previous year. Revenue rose 1.1 percent to 2.28 trillion yuan from 2.258 trillion yuan a year earlier. The company blamed the profit decline on the global crude price plunge in the second half of the last year and slowing oil demand in the market.
"The challenges brought by the low crude price will continue this year. The company will carry out 33 measures in 12 sectors to cut costs and raise efficiency in 2015," said PetroChina in its annual report.
Last year the company's total crude oil output reached 945.5 million barrels, up 1.4 percent compared with the previous year. Natural gas output reached 3.029 trillion cubic feet, up 8.1 percent over the previous year.
Its oil and gas equivalent output from overseas operations reached 147.2 million barrels, representing 10.1 percent of the company's total output. Those international assets recorded a turnover of 803.78 billion yuan, representing 35.2 percent of its total turnover.
"The overseas operations achieved notable results and further increased their contribution," said the company.
The fall in global crude prices and domestic retail oil price cuts in the second half of last year have affected most oil and gas explorers, oil services providers and traders.
On Sunday, China's second-largest oil and gas producer and Asia's biggest refiner Sinopec Group reported a 29.4 percent annual profit drop for 2014, the company's worst performance since the financial crisis in 2008, when its net profit tumbled 47.5 percent year-on-year due to sharply declining prices.
Sinopec also announced a quarterly profit warning, saying that the negative impact of the crude prices will continue and the company might break even only in the first three months as its margins are hit by previous crude purchases made at higher prices.
Dong Xiucheng, a professor with the China University of Petroleum, said the restructuring of China's economic growth model and rising energy efficiency measures will slow domestic demand increases for crude this year.
Slower economic growth in emerging markets including China, Brazil and Russia, he said, will also lead to shrinking oil demand globally, and keep international crude prices low.