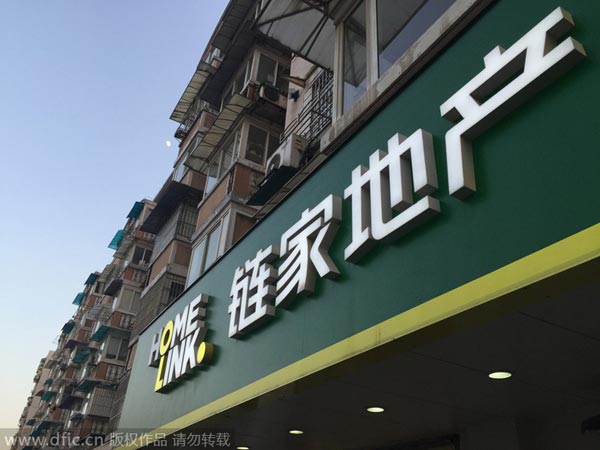 A Homelink real estate agency seen in a residential building in Shanghai, Jan 2, 2015. [Photo/IC] 
Traditional brick-and-mortar property brokerages have entrenched flaws in how they do business, as their rivals in the Internet industry rightly point out, but replacement is not on the horizon either, reports Zheng Yangpeng.
There was no shortage of bad news for property brokerages last year and just when the industry thought it had seen the worst of it, more kept coming this year.
Last month, Century 21 China Real Estate, a real estate brokerage and the exclusive franchisee for the US-based Century 21 brand in China, was delisted from the New York Stock Exchange after persistent failure to meet the bourse's minimum capitalization requirements. The capitalization of the company ended at a miserable $10.11 million, a far cry from its peak of $4 billion.
The plunge in share prices reflected US investors' fast-changing views on the brokerage business. Five years ago, when Century 21 became the first Chinese real estate brokerage to be listed on the NYSE, its shares rallied, backed by the booming market in China. But a slowdown in China's property market, cutthroat competition and the market offensive from Internet companies have made investors jittery on company fortunes.
Domestic real estate brokerage Syswin Estate Co Ltd raised the industry ante further after it said it would cut commission fees to 1.5 percent of the transaction value, a sharp contrast to the 2.7 percent charged by major brokerages like HomeLink Real Estate Services.
Inmost cases, if one were to weigh the two developments, it would not have been uncommon to expect the industry to be in tatters. But visits to several brokerage stores in Beijing revealed exactly the opposite story. Though most of the stores were largely empty, except for a bunch of brokers sitting behind desktop computers, it was not due to slack business, but because most of the transactions had shifted online. Prospective customers often directly visit the houses on sale with brokers. Data released by HomeLink and 5i5j Real Estate, the two largest brokerages in Beijing, showed record high pre-owned home sales in the past four months, thanks to stimulus policies since the end of September.
A broker with HomeLink who declined to be named said he did not feel his business has been affected with the advent of the Internet.
Li Zhimin, a senior broker with a smaller company, Maitian Real Estate Agency Co Ltd, said Maitian is not expanding as fast as two or three years ago. It closed some stores in some communities but opened new stores elsewhere.
"Under the current circumstance, big companies become even bigger while small companies find it hard to survive. There is rarely a middle ground. We would not cut our commission fees, even if it means fewer customers. We think in the long run professional services are still what most customers care for," he said.