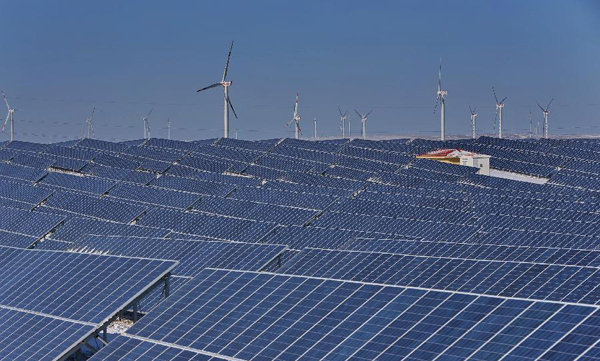 A photovoltaic power plant and a nearby wind power farm in Zhangjiakou, North China's Hebei province,Jan 19, 2015.[Photo/Xinhua]
Trade frictions dented exports of high-tech products and become a new concern for China and its trading partners last year, a top official said on Thursday.
Shen Danyang, a spokesman for the Ministry of Commerce, said that after China became the world's largest goods trader in 2013, many countries started to curb the import of Chinese products to narrow trade deficits
"We noticed that China's photovoltaic products, wind turbines and smartphones have encountered more trade investigations in 2014," said Shen. "The United States, Canada and Australia have all launched anti-dumping and countervailing duty investigations on Chinese photovoltaic products, an emerging change in China's foreign trade last year."
With the European Union also launching anti-dumping investigations earlier this month, Shen urged the EU to give sufficient defense opportunities to Chinese companies and review relevant data objectively.
Twenty-two countries and regions launched 97 investigations on exports of Chinese products involving $10.49 billion in 2014, including 61 anti-dumping and 14 countervailing duty investigations. The country confronted 94 trade disputes in 2013.
Zhao Ying, a researcher at the Beijing-based Institute of Industrial Economics of the Chinese Academy of Social Sciences, said: "Because China is undergoing an industrial upgrade boom, the nation is capable of exporting more high-tech or high-value added products to the global markets. But such a change has affected the market share of high-end products manufactured by developed nations."
Zhao said developed countries have no choice but to impose trade investigations on Chinese products in a bid to protect their market share in the world.
"After all, high-tech products can generate more profit when compared with garments, footwear and other low-end products that China used to manufacture overwhelmingly," Zhao said.
In addition, the trade disputes extended to hardware, food, pharmaceuticals and mining products in 2014. In the meantime, China's trading partners including the US, Canada and Australia launched 27 cases involving $2.32 billion against China's steel exports.