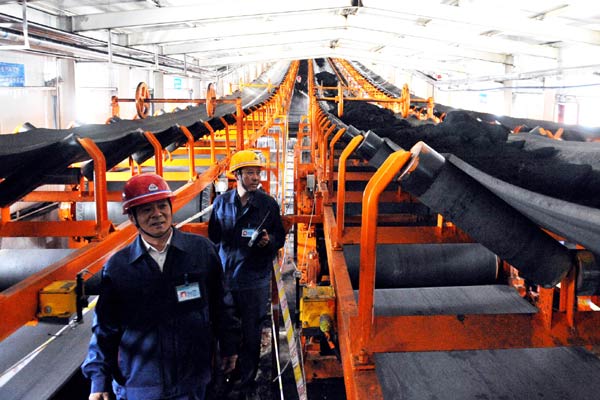 Workers monitor a coal cleaning facility at Shenhua Ningxia Coal Industry Group Co Ltd in Yinchuan, the Ningxia Hui autonomous region. [Photo/Xinhua]
BEIJING - China's coal output may have dropped 2.5 percent in 2014, the first fall since 2000, according to an industrial report released on Thursday.
Over 70 percent of the enterprises in the coal sector suffered losses last year, according to a report by the National Coal Association (CNCA).
Weak demand, overcapacity and cheap imports have compounded the sector's woes, said Jiang Zhimin, vice president with CNCA.
China's coal capacity is over 4 billion tons, with another one billion under construction and amounts to over 90 percent of the country's total energy resources.
Ratings agency Fitch holds no hope for a meaningful upswing in coal prices in 2015. Substantial capacity investments from previous boom years are still being digested, while demand has weakened.