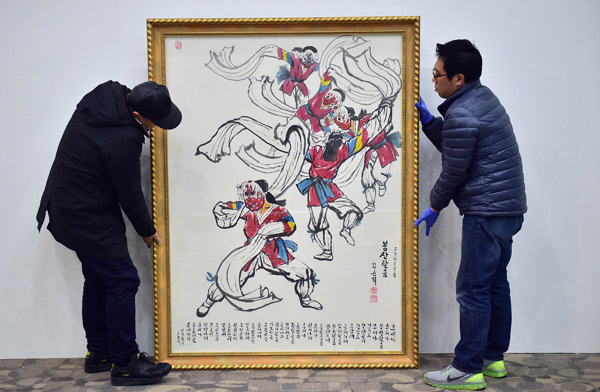 Workers carry a painting from the DPRK before the opening of an art exhibition at the Korean International Exhibition Center in Goyang, north of Seoul. JUNG YEON-JE / AFP
Investor Frans Broersen has been flying to the Democratic People's Republic of Korea for years with "bags full of money" and has returned with hundreds of works of art.
Now, he believes he has pre-emptively secured a lucrative slice of a market so specialized it doesn't really exist.
Some critics describe Broersen's strategy as more akin to carpetbagging than collecting, disputing the overall quality of the works he has bought during seven trips to Pyongyang beginning in 2005.
Broersen says he cajoled and bribed his way into top artists' studios, met with painters' widows who brought canvasses to his hotel room, and handed out hundreds of thousands of euros.
The result is a collection of about 2,500 pieces of contemporary DPRK art, including some by renowned painters like Son U-yong and Jung Chang-mo.
A selection of nearly 150 paintings form an exhibition that opened north of Seoul in the Republic of Korea on Thursday.
Broersen admits he had never seen a DPRK art work before heading to Pyongyang, and is candid about the motives for his buying spree.
"We want a return on our investment," he said of his foundation, set up with two fellow Dutch investors. "We're not philanthropists."
Broersen is following a strategy he honed by buying Russian art at about the time of the Soviet Union's collapse in 1991, when prices shot up as the new market opened.
"The whole collection is a huge, long-term investment, based on speculation that one day the Koreas will unite, the market will open and the value of the works will rise very sharply," he said in Seoul.
"At the moment, there is practically no market for DPRK art, because the works are not really being traded," he added.
This makes finding high-quality pieces, with a clear provenance and with genuine roots in the fabric of DPRK society, extremely difficult.
Koen de Cuester, an expert on DPRK art at Leiden University in the Netherlands, said a hefty bankroll is no substitute for expertise and inside knowledge.
"Just because a painting hails from the DPRK does not make it representative of DPRK art," De Cuester said.
"They produce a lot that caters explicitly to foreign tastes — or what they perceive foreign tastes to be — and the artistic merit of those works is questionable, no matter how well executed," he said.