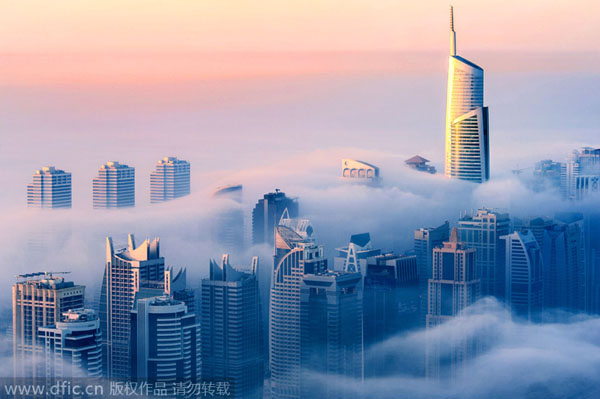 A stunning picture of fog over buildings in Dubai, March 18, 2013. [Photo/IC]
DUBAI - Last year saw the number of Chinese tourists traveling to Dubai increased by 25 percent on a year-on-year basis, a tourism official said on Tuesday.
Issam Kazim, chief executive of Dubai Corporation for Tourism and Commerce Marketing (DCTCM), made the remarks on the sideline of a two-day business conference.
In 2013, a total of 275,675 visitors from China came to Dubai, according to the official tourism body DCTCM.
"We started to give more Chinese access to Dubai by sea as we recently enabled multiple entry visas for Chinese nationals who plan cruise ship holidays in the Middle East," said Kazim.
Kazim added that the DCTCM will organize a number of Chinese cultural events as the Chinese Spring Festival is just around the corner.
In 2020, Dubai will host the World Expo as the first Arab city ever and seek to attract a total of 20 million tourists, he noted.