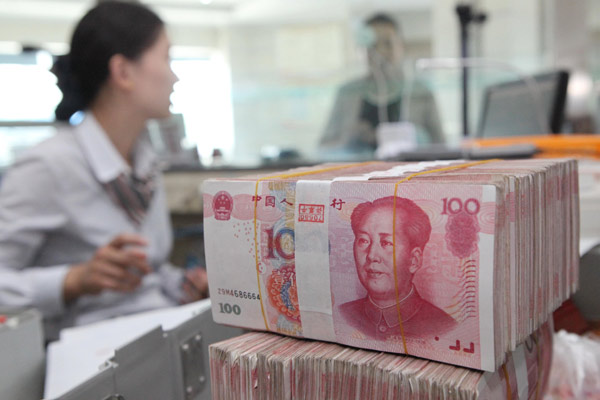 The yuan slid 0.41 percent to 6.2542 per dollar in Shanghai on Jan 26, extending a decline of 0.31 percent on last Friday, according to securities information provider Wind Information Co Ltd.[Si Wei / China Daily] 
Biggest two-day loss for currency since the onset of global financial crisis
The yuan's value tested the boundaries of what the authorities will tolerate on Monday, trading as much as 1.94 percent weaker than the lower limit of the People's Bank of China's reference rate.
Further declines are possible as the dollar has been strengthening in response to the European Central Bank's quantitative easing program and the outcome of the Greek parliamentary elections, analysts said.
But they said that China still has plenty of tools to prevent a sharp decline.
The yuan slid 0.41 percent to 6.2542 per dollar in Shanghai on Monday, extending a decline of 0.31 percent on Friday, according to securities information provider Wind Information Co Ltd.
It was the currency's biggest two-day loss since 2008, when markets were shaken by the global financial crisis.
The PBOC sets a reference rate every trading day and imposes a trading band of 2 percent. If the currency touches the bottom of the reference range, the central bank can take one of three steps: intervene to support the yuan, cut the reference rate or widen the band.
The central bank adjusted its daily fixing lower to 6.1384 from 6.1342 previously to prevent the spot rate from hitting the bottom of the range.
"The dollar is on a cyclical rise, rather than an instant one," said Ding Zhijie, a professor of international finance at the University of International Business and Economics in Beijing. "That means downward pressure for all major currencies around the world, not only the yuan."
Wang Youxin, a researcher at the Institute of International Finance under Bank of China Ltd, noted the 12-month nondeliverable yuan forwards, which signal the offshore market's outlook for the currency's value, have been declining since July.
That trend implies that the global market's bet on a weaker yuan a year down the line is based on China's own declining economic growth.