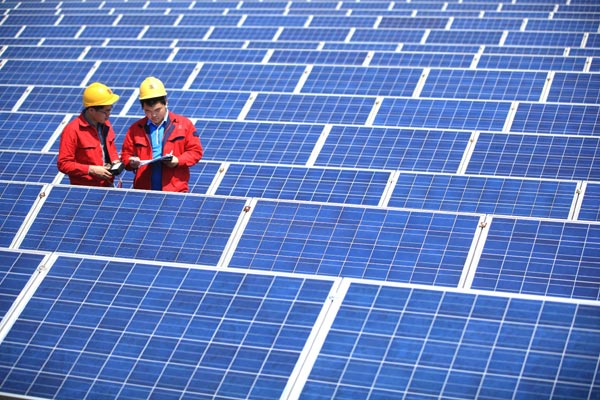 Technicians check solar panels at a textile company in Jimo, Shandong province. Up to 86 percent of power generation in China could be coming from renewable energy sources by 2050. [Photo/China daily]
Ambitious figures for mid-century presented by CNREC executive
China could be generating the majority of its total energy needs from renewable sources by 2050, a senior government official said in Abu Dhabi.
Wang Zhongying, director of the China National Renewable Energy Center, told China Daily on the sideline of the International Renewable Energy Agency assembly that by increasing its renewable energy use China will cap its coal use at 1.5 billion metric tons by 2050, which will help the country cut its emissions to levels not seen since the 1980s. The country's energy consumption of coal in 2013 was 3.7 billion tons, said Wang.
"2050 might seem a long way off, but we need to get things done step-by-step. China will focus on solar and wind power generation in the following decades to reduce coal use and carbon emission," said Wang.
According to CNREC estimates, by 2050 up to 86 percent of power generation could be coming from renewable energy sources.
The most recent prediction on long-term renewable energy use came from Jiang Shaojun, senior adviser to China Electric Power Promotion Council, who said green energy will become one of the country's major contributors of energy, but that it was unlikely to go as high as more than 80 percent.
The share of renewables in China's energy mix was 13 percent in 2010 when the country became the biggest energy user in the world, according to figures from the IRENA.
Current government targets are to raise its non-fossil fuel share to 15 percent of the total mix by 2020 and 20 percent by 2030.
The Abu Dhabi-based IRENA is an intergovernmental organization that supports countries in their transition to a sustainable energy future, and serves as the principal platform for international cooperation on renewable energy.
The organization said China has the potential to raise the share to as high as 26 percent by 2030, given the right policies and investments.
Last year, China's installed renewable energy power generation capacity reached 430 million kilowatts, accounting for 32 percent of the country's total power generation capacity, according to Shi Lishan, deputy director of the New and Renewable Energy Department at the National Energy Administration, the nation's top energy planner.
Michael Taylor, a cost expert with IRENA, said increasing the country's renewables share from 26 percent to around 67 percent between 2030 and 2050, sounds like a very ambitious plan but that it is technically feasible.
"As innovation in renewable industry continues to cut the cost, there is no technology obstacle for China to make that vision happen," he said, adding that the cost per unit of solar and wind power are becoming more competitive compared to fossil fuels, and they will continue to fall.
According to IRENA, China installed more new renewable energy capacity than all of Europe and the rest of the Asia Pacific region in 2013.
"The main driver for this shift is the increasing cost-competitiveness of renewable energy technology, and benefits such as improved energy security and deceasing air pollution," said a report from the organization.