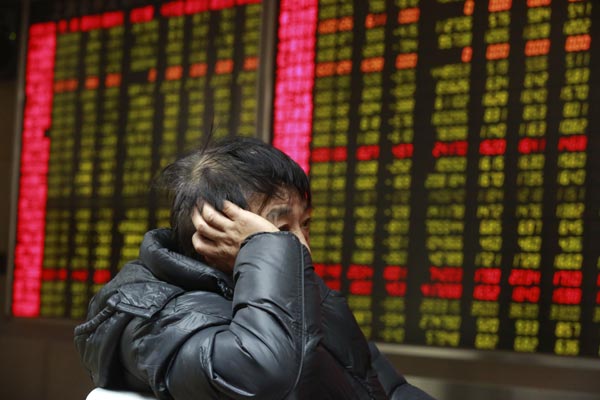 An investor checks share prices at a brokerage in Beijing. Financial sector shares crashed on Jan 19, 2015 with many brokerages, banks and insurers seeing major declines. [Photo/China Daily] 
Benchmark declines by 7.7%, biggest loss since global financial crisis
The mainland stock market recorded its biggest loss on Monday since the global financial crisis of 2008 after the securities regulator reined in margin lending, but analysts said the bull market still has further to run.
In addition to forbidding some brokerages from opening new margin accounts, media reports said that the authorities are likely to accelerate initial public offerings in the coming months to soak up some of the liquidity that has been driving a sharp rally.
The benchmark Shanghai Composite Index sank 7.7 percent to 3,116.35 points, but with transaction volume standing at the regular amount. The financial sector crashed, as the majority of brokerages, banking and insurance firms fell by the daily limit of 10 percent.
The losers included Industrial and Commercial Bank of China Ltd, Ping An Insurance (Group) Company of China Ltd and CITIC Securities Co Ltd.
In Hong Kong, the Hang Seng Index retreated 1.5 percent, with CITC Securities and Haitong Securities Co Ltd, the nation's two biggest brokerages, both tumbling more than 16 percent.
The China Securities Regulatory Commission on Friday barred CITIC Securities, Haitong Securities and Guotai Junan Securities Co Ltd from opening new margin trading accounts for three months.
The regulator had determined that the three failed to correct violations of rules prohibiting rollovers of margin trading contracts. Another nine brokerages received warnings.
The CSRC said late Monday that regulating the market is not intended to pressure stocks and called for proper understanding of the policy.