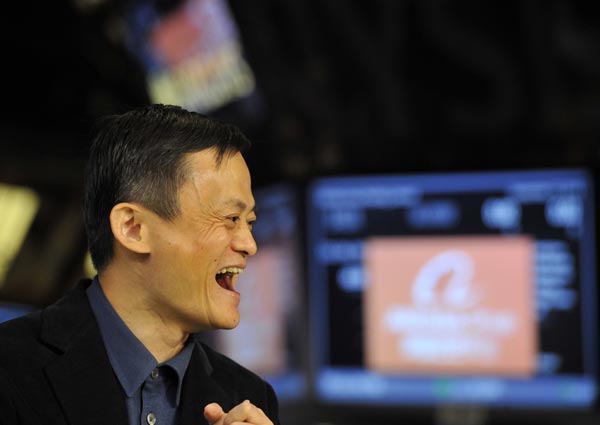 Jack Ma, founder of e-commerce giant Alibaba Group Holding Ltd, at the company's IPO on the New York Stock Exchange last September. About a half-dozen Chinese companies may hold IPOs in New York this year. [Photo/Xinhua]
Debut US stock sales by Chinese Internet companies are poised to drop by about half from last year's record as the pool of mature startups shrinks and their larger peers are more apt to provide them with needed funding.
About a half-dozen companies may hold initial public offerings in New York this year, according to analysts at 86Research Ltd, Rosenblatt Securities Inc, and JG Capital Corp. Among the most likely candidates are Dianping.com, a consumer review website akin to Yelp Inc in the US, and Meituan.com, which runs a discount site similar to Groupon Inc, they said.
After about 60 Chinese Internet stock sales in the US since 2000, including 12 IPOs last year, the biggest names in e-commerce, search, travel and social networking have already listed, leaving fewer nascent firms ready to go public. Startups looking for capital are finding a crowd of deep-pocketed companies such as Alibaba Group Holding Ltd and Baidu Inc eager to invest in smaller rivals.
"Most of the Chinese Internet names that meet the criteria for an IPO have already listed," Jun Zhang, the head of China equity research at Rosenblatt, said by phone last Wednesday. "Some companies have dropped IPO plans after being bought by top-ranked companies in the sector. The big guys' acquisitions also made it harder for some startups to compete."
UCWeb Inc, a Web browser maker and application distributor that had sought a public listing in 2012, scrapped that plan after Alibaba bought it last year, Zhang said.
Brand recognition
"The acquired targets include both listed companies and unlisted companies that had originally planned for individual IPOs," Ji said by phone last Wednesday. "Some of the firms with relatively large customer bases and brand recognition, like Meituan and Dianping, may still want to go public on their own even with investments from top players, but it's a different case for small ones."
Hangzhou-based Alibaba last week became the majority shareholder in AdChina Ltd, an web-based advertising platform, without disclosing details of the transaction. AdChina withdrew its IPO application in February 2013 after it filed a prospectus a year earlier.