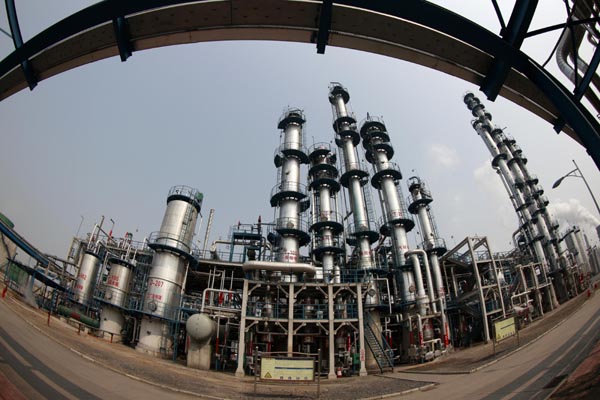 Photo shows an oil refinery in Nanjing, East China's Jiangsu province, March 15, 2012. [Asianewsphoto by Tian Sheng]
China's finance and taxation authorities announced on Monday a third increase on consumption tax for oil products in the past three months, altogether pushing the levy 50 percent higher.
It may dampen the production incentives among oil refineries which are normally advanced payers for the tax and despite the tax rebate are already plagued by recent price drops, said Hu Huichun, analyst with Zhuochuang Info Co.
"Several oil refineries in Shandong province have incurred loss and decided to overhaul and shut down temporarily," added Hu.
The tax on gasoline, naphtha, solvent oil and lubricating oil is increased to from 1.4 yuan to 1.52 yuan per liter from Tuesday, while the levy on diesel, jet fuel and fuel oil rise from 1.1 yuan to 1.2 yuan, according to the Ministry of Finance (MOF) and the State Administration of Taxation (SAT).
This is the third increase, following one on Nov 29 when and another on Dec 13.
The retail prices of gasoline and diesel will be cut by 180 yuan and 230 yuan per tonne after taking the higher tax into consideration, the National Development and Reform Commission announced in a separate statement, as the government reacts to lower global crude oil prices.
Countering pollution
"Protecting the environment is the main reason behind the tax increase," said Hu Huichun, adding that despite of a general hope for cheaper gasoline, the government shows its determination to fight against air pollution.
According to the MOF and the SAT, proceeds from the higher taxes will mainly be allocated to counter-pollution initiatives and the new energy sector.