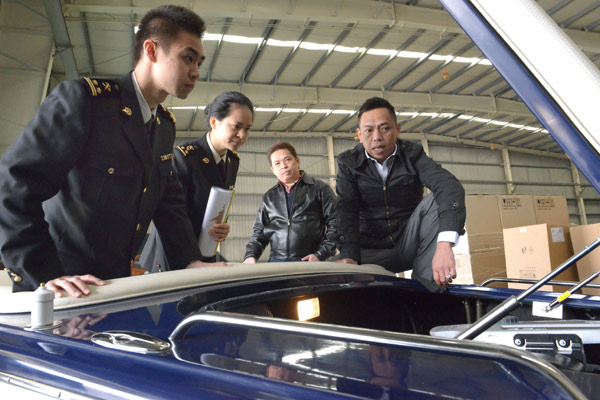 An imported yacht being checked by customs officers in Yiwu, East China's Zhejiang province. The government has decided to lower import duties for 17 products, including pharma products and consumer goods such as lipid-lowering drugs and certain cameras. [Lu Bin / for China Daily]
Government reports first ever single-digit annual growth, with property a major culprit
China's tax revenue slowed to a single-digit growth for the first time last year, as the economy eased.
Wang Jun, director of the State Administration of Taxation, told a work conference on Friday that tax collected during 2014 grew 8.8 percent to 10.38 trillion yuan ($1.67 trillion).
The SAT did not disclose its revenue growth in 2013, but calculations based on 2014's growth rate and other data suggest revenue grew then by 11.6 percent, after an 11.5 percent growth in 2012.
The Ministry of Finance is yet to announce the total national tax take for the year, which combines tax collected by the SAT and the General Administration of Customs. Earlier, it revealed that in the first 11 months, total revenue grew 7.5 percent to 11.06 trillion yuan.
Experts said recent structural tax cuts - including a trial program of replacing business tax with value-added tax from 2012, and tax breaks for small businesses - did affect overall tax growth to an extent, but they had minimal impact on the final figures, with slowing GDP very much the dominant factor in the dropped tax revenues.
The most significant effect of the slowdown was shown in the property sector, with the growth of business tax collected from property transactions in the first nine months plunging 33.6 percent, the ministry's data showed.
Slipping fiscal revenue is also likely to limit the government's ability to adopt an accommodative fiscal policy, said experts, and put further pressure on the country's overall growth prospects.
The ministry will unveil a more detailed breakdown of tax revenue by sector later this month.
Wang Chaocai, deputy head of the Fiscal Sciences Research Center, said if revenue growth continues to drop and fixed fiscal expenditure increases, considerable pressure will grow on the public finances.
One way to alleviate that might be to dip into government reserves accumulated over the years, he said, which currently stand at 18.3 trillion yuan, according to the most recent estimates. Alternatively, the shortfall could be made up by a continuation of the government's austerity measures, launched in 2013, Wang said.
Zhang Zhiwei, chief China economist with Deutsche Bank AG, warned in a recent report that China's broader fiscal revenues, including tax and land sales, could grow by just 1 percent in 2015, posing a huge challenge for the economy.
Recent data show that many local governments still rely too heavily on land sales for revenue. In 2008, one-quarter of all regional revenue came from land sales and that had risen to 35.2 percent by 2013. But after falling to 27 percent last year, the China Index Academy said local government finances could now be under serious pressure.
On Thursday, the SAT announced a series of preferential tax policies on mergers and acquisitions to encourage more industry consolidation. Companies buying more than half of another company's equity or assets will be allowed to delay their tax payments - previously the requirement was taking a 75 percent stake.
The SAT also announced companies involved in importing a list of 17 products - such as pharmaceutical products and consumer goods including lipid-lowering drugs and single lens and reflex cameras - will be afforded lower import duties in 2015, according to the People's Daily.
In accordance with various international trade agreements signed over recent years, China is expected to lower duties on selected imported goods from the Association of Southeast Asian Nations, Chile, New Zealand, Peru, Costa Rica, Switzerland, Iceland and China's special administrative regions of Hong Kong and Macao. Zero percent tariffs already exist on some goods from Pakistan and Singapore, and goods covered by the Asia-Pacific Trade Agreement.