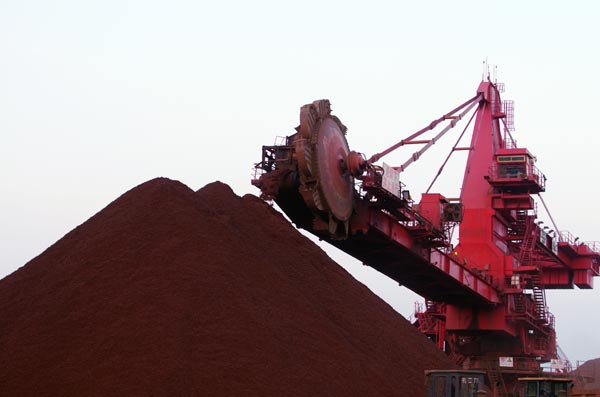 Iron ore being unloaded at Rizhao Port, Shandong province. The stockpiles at Chinese ports are 13 percent above the five-year average of 89.04 million tons, according to Bloomberg calculations. [Photo/China Daily]
Iron ore inventories at ports in China, the largest importer of the steel-making raw material, fell to their lowest level in almost 11 months on Tuesday, as mills replenished holdings after prices fell and local output slowed during the winter.
The stockpiles dropped 0.9 percent to 100.6 million tons by Jan 2, shrinking for a sixth week, according to data from Shanghai Steelhome Information Technology Co.
That is the lowest level since February last year, and the sixth weekly decrease is the longest run of declines since April 2013. The inventories are 12 percent lower after peaking at 113.7 million tons in July.
While iron ore retreated 47 percent last year as global output expanded, prices opened 2015 with the biggest weekly gain in 18 months amid speculation China will take more steps to spur growth.
The country is accelerating infrastructure projects valued at 7 trillion yuan ($1.1 trillion), according to industry sources. Some ore mines in China typically close during the winter, and last year's slump in prices spurred speculation that not all of them will reopen this year.
"Restocking by mills, plus the seasonal factor of northern Chinese mines closing for winter" drove the stockpiles lower, said Philip Kirchlechner, director of Iron Ore Research Pty in Perth, Australia, adding that if the mines stay shut after the winter, it "is a possible sustaining factor for prices".
Ore with 62 percent content delivered to Qingdao retreated 0.6 percent to $70.87 a dry metric ton on Monday, the first decline in seven sessions, according to Metal Bulletin Ltd. The price-which fell to $66.84 on Dec 23, the lowest level since June 2009-rallied 5.8 percent in the week to Jan 2.
Data on Tuesday showed that shipments of ore to China from Australia's Port Hedland, the world's biggest bulk-export terminal, rose in December after Brazil said on Monday it exported the most iron ore in the same month since 2005.
Exports through Port Hedland for China reached 30.6 million tons from 29 million in November, according to port data. Exports through the port to all countries in 2014 surged to 414 million tons from 318 million tons in 2013, according to Bloomberg calculations.
Many high-cost mines in northern China that shut over the winter may not resume production this March, Citigroup Inc said in a Nov 11 report.