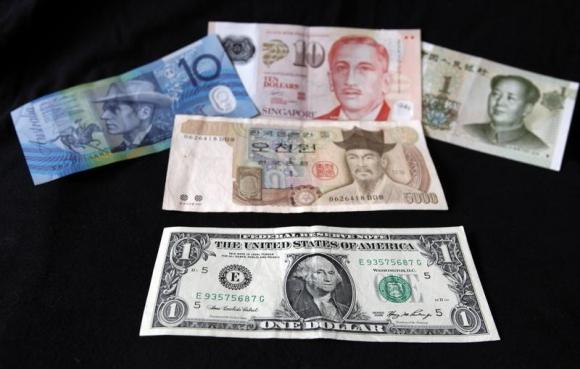 A US dollar note (bottom) is pictured alongside other currencies including (L-R) the Australian Dollar, Singapore Dollar, Korean Won and China's yuan in this picture illustration taken in Washington, Oct 14, 2010. [Photo/agencies] 
China's foreign exchange regulator has ordered major state banks to check for possible illegal activity in the currency market, as it tries to clamp down on speculative money flows in and out of the country.
Banks are being asked to examine cross-border deals involving derivatives and other innovative currency products that may have violated its regulations, the State Administration of Foreign Exchange (SAFE) said in a statement posted on its website on Tuesday.
These checks will help banks "curb illegal foreign exchange operations and criminal activities" and limit their risk exposure, SAFE said.
This audit will run from January to May, and banks involved include Industrial and Commercial Bank of China, Bank of China, Agriculture Bank of China and China Construction Bank, the regulator said.
China has been trying to curb speculative money flows that could pose a threat to financial stability as the country gradually opens up its financial markets and promotes the yuan's usage in trade and investment.