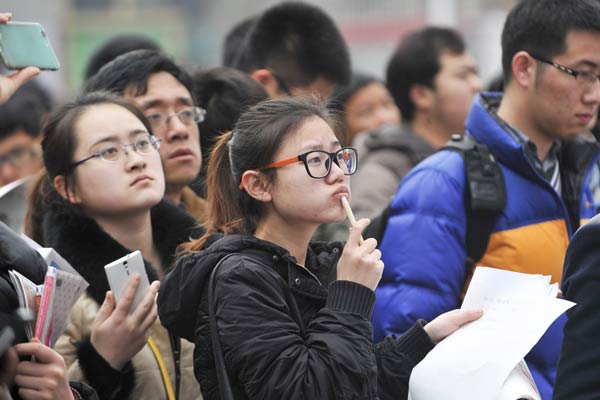 Graduates seek prospects at a job fair in Hangzhou, Zhejiang province. They face tougher challenges in a slower economy. [Photo/China Daily]
Recruitment agencies find it difficult to satisfy demand as need for specialized regulatory professionals grows in several sectors, reports Shi Jing in Shanghai.
The Chinese job market will see rising demand for compliance professionals in 2015, a report suggests. The United Kingdom-based recruitment specialist Hays Plc said in its forecast that the huge growth in demand for compliance experts will be the most important trend in the next 12 months.
The government's anti-graft campaign, as well as ongoing changes in the regulatory environment, will lead to the increased demand for compliance professionals, and the trend is expected to continue in the coming years.
According to Simon Lance, regional director of Hays in China, compliance staff usually see their salaries rise by 15 percent every year. But due to the huge shortage of candidates, experienced professionals are very likely to see their salaries increase by 30 percent or even 40 percent.
The closer cooperation between China and the United States after the 2014 APEC meeting, which was held in Beijing in November, will also result in higher demand for such talent, said Lance.
This is largely because the Chinese market will open further, and Chinese companies will need to learn more in terms of compliance.
Lance said that the demand for compliance talent will be even higher in the banking industry and elsewhere in the financial sector, including insurance, funds and securities firms, as well as in the pharmaceutical industry.
Global insurer Allianz SE got involved in compliance affairs in 2008 and set up its own compliance department one year later. The compliance staff increased from three to four people in 2014, of whom three have legal backgrounds.
Maria Zhang, head of the human resources department of Allianz China General Insurance Co Ltd, said: "Within Allianz, the compliance department is mainly responsible for working closely with the supervisory authorities and submitting reports or documents as required. It will also implement compliance projects within Allianz and manage contracts, internal controls and legal affairs.
"It is an independent department that also provides legal and compliance advice to other departments," Zhang said.