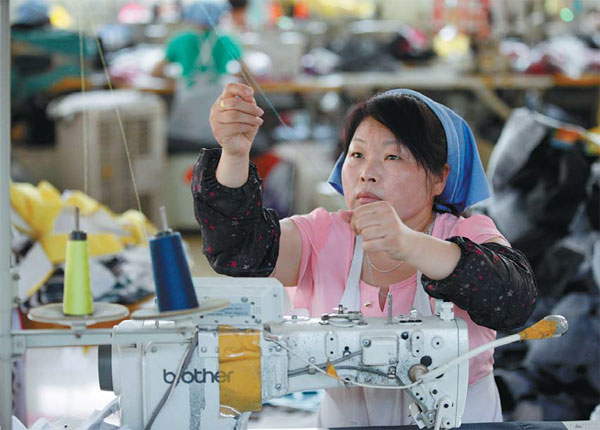 A woman works at a garment factory in Huaibei, Anhui province. File photo provided to China Daily
New system to end discrepancy in figures, highlight quality of growth
China is accelerating statistical reform to launch a new unified system to calculate gross domestic product in the nation's regions.
The move is aimed at preventing inflated local figures contradicting central government calculations, the nation's top statistician said on Thursday.
The central government will have the sole right to evaluate the GDP and growth rates of every province and municipality, said Ma Jiantang, director of the National Bureau of Statistics.
Ma made the comments at the annual National Statistics Work Conference in Beijing.
A draft of the reform has been sent to the State Council, awaiting approval that is expected to be given in the first half of next year.
Economists said that under the new system, total GDP and growth rates may show a different economic trend when compared with expectations under traditional methods.
Experts predict the new system is likely to take effect in 2016 — the first year of the 13th Five-Year Plan.
The current statistical method is based on a direct reporting system from each province and municipality.
Under performance evaluation standards, a high regional GDP is seen by local officials as a route to achieving important career rewards.
Xiang Songzuo, chief economist at the Agricultural Bank of China, said a unified statistical system will help to calculate more accurate economic indicators.
It will also avoid inflated growth figures from local governments, especially when the economy is facing downside risks, Xiang said.
"Previously, total local GDP figures were usually higher than the final national figure, which means the data was unconvincing and did not reflect economic development," he said.
The nation's GDP in the first three quarters of this year totaled 41.99 trillion yuan ($6.82 trillion), according to the National Bureau of Statistics, while the figures from the 31 provinces, autonomous regions and municipalities added up to 47.36 trillion yuan.