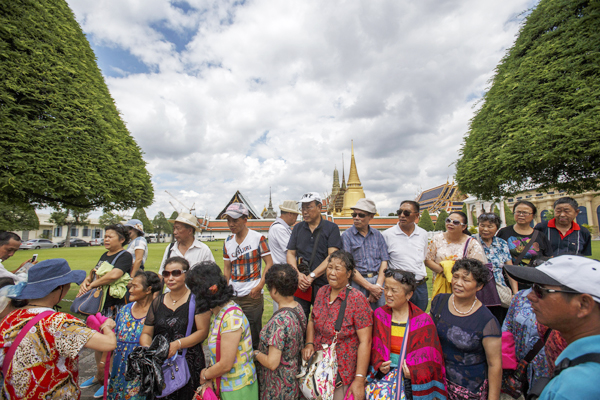 Destinations such as the Grand Palace in Bangkok are among those being promoted during the Nov 7-12 holiday. [Photo/Agencies]
Travel agencies in Beijing are getting an extra golden week.
They are launching special tours for the six-day holiday during the Asia-Pacific Economic Cooperation meeting next month.
In order to ease traffic on the road, when Beijing hosts the APEC Economic Leaders' meeting from Nov 10 to 11, employees in government departments and institutions in the city will have a six-day holiday from Nov 7 to 12, authorities said on Thursday.
Although companies are not included, some of them still said they would provide a holiday to their employees to support the APEC meetings.
Meanwhile, the local government is encouraging Beijing residents to travel during the holiday, and it is working with some travel agencies to promote tours.
Local residents are happy about the extra holiday and some of them said they would like to travel.
"It's a surprise, and I need to plan seriously for the holiday, since I did not go away during the National Day holidays because of the high prices," said Zhang Jing, a primary school teacher in Beijing.
But people who want to travel during the holiday need to hurry up, as it is coming soon and travel agencies' business is booming.
Travel agencies are very confident that the extra holiday will bring another small Golden Week for their business, and they are already getting bookings.
The city, and the nation, just had a Golden Week for the National Day celebration in early October.
Ctrip.com International Ltd, the largest online travel agency in China, aims to get more than 100,000 customers during the holiday, as its products cover short-term holidays as well as domestic and outbound trips.
"The tourism industry will benefit from the APEC meeting, and our products departing from Beijing are selling very well now," said Dai Yu, marketing director of Ctrip's tourism department.