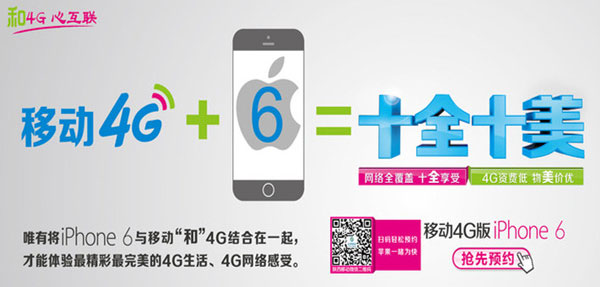 Screenshot of China Mobile's pre-order webpage of iPhone 6. This webpage has now been removed. [Photo/Nipic.com]
Although China's largest carriers have been ready to roll out iPhone 6 and iPhone 6 Plus, the cell phones are now reportedly waiting for China's network access license from the Ministry of Industry and Information Technology.
The ministry usually distributes licenses twice a month. But as the new iPhone had missed the deadline earlier this month, another chance might come near the end of this month, China Business News reported Thursday.
Chinese largest carriers China Mobile Communications Corporation, China Unicom and China Telecom all have removed the web pages for iPhone 6 and iPhone 6 Plus pre-order service, which was launched earlier this month.
By Wednesday, China Mobile had received 72,000 pre-orders, China Unicom 15,000 and China Telecom 18,000.
Besides the three carriers, other retailers in China are also ready for iPhone 6 and iPhone 6 Plus sales.
On Wednesday, Chinese large online shopping sites Taobao.com and Paipai.com launched special sections to accept iPhone 6 and iPhone 6 Plus pre-orders.