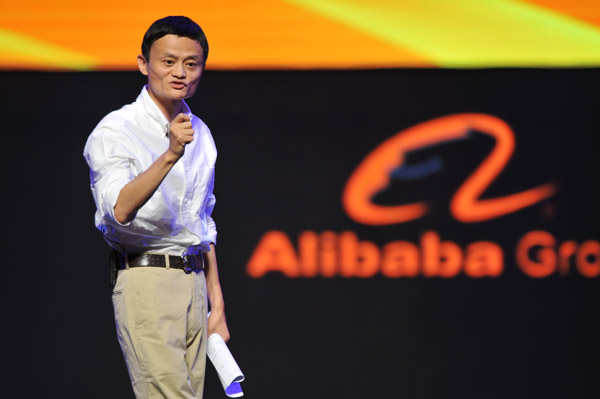 Alibaba Group Chairman Jack Ma speaking at the Global ECommerce Summit in Hangzhou in 2012. The Chinese e-commerce giant is expected to be among the most valuable Internet companies to be traded in the US after its IPO. HUANG ZONGZHI/XINHUA
China's richest man wants investors in Alibaba Group Holding Ltd to know where they stand in its initial public offering — and that may not be where they imagine.
"Customers first, employees second, and shareholders third," Chairman Jack Ma wrote in a letter in Alibaba's IPO filing last week valuing the company as high as $162.7 billion. "I can see that investors who hear this for the first time may find it a bit hard to understand."
Ma is taking a page from the IPO playbook of Google Inc and Facebook Inc by detailing his mission statement for China's biggest e-commerce operator, which he founded in 1999 in his Hangzhou apartment.
That includes ensuring it survives into the 22nd century, bridging the gap between China and the world and fighting for "the little guy" who underpinned growth before a US IPO that may be the biggest ever.
"What Jack Ma is really trying to say is that he will not succumb to short-term investor pressure," said Li Yujie, an analyst at RHB Research Institute Sdn Bhd in Hong Kong. "His logic is that if he treats his customers and employees right, at the end of the day he will have a good company, which will be good for the investors."
Alibaba plans to sell shares between $60 and $66, which at the top of the range would raise $21.1 billion and give the company a valuation of $162.7 billion.
At that top valuation, Alibaba would be larger than 95 percent of the Standard & Poor's 500 Index and trail only Google and Facebook among the most-valuable Internet companies traded in the US.
Ma isn't limiting Alibaba's business to China, where 632 million Internet users help generate about 90 percent of sales. He foresees using technology "to expand the boundaries of business" and to help solve social problems.
"Alibaba is a values-based company driven by our mission 'to make it easy to do business anywhere,'" Ma said. "In the past decade, we measured ourselves by how much we changed China. In the future, we will be judged by how much progress we bring to the world."
Alibaba began meeting investors this week in New York, with the roadshow scheduled for about 10 days, including stops in other US cities, London and Asia.
Including an over-allotment option, Alibaba may raise as much as $24.3 billion, surpassing the global record held by Agricultural Bank of China, which raised $22.1 billion through share sales in 2010.
When Google went public in 2004, founders Sergey Brin and Larry Page wrote to prospective shareholders about how they planned to run the company. That included avoiding quarterly earnings forecasts, maintaining perks to employees and risking capital on new projects even if it reduced short-term profits.
"Ten years later, Larry and Sergey's IPO letter is the single best explanation of Google's culture," Google Chairman Eric Schmidt wrote on Twitter last month.
Facebook founder Mark Zuckerberg wrote before his 2012 IPO about the company's social mission to make the world more open and connected.
"Simply put: we don't build services to make money; we make money to build better services," Zuckerberg wrote.
Echoing those words, Ma said Alibaba's strategic decisions won't be made for short-term results.
"Alibaba has come a long way, but we want to be a company that can last 102 years," Ma said in a presentation after the latest filing. "We have to work very hard in order to survive the long journey."
Ma has ridden China's economic liberalization with a business model that shares traits of eBay Inc and Amazon.com Inc.
Alibaba doesn't sell merchandise itself. It makes most of its sales from commissions and advertising, and provides services that help buyers and sellers conduct their businesses.
Taobao Marketplace, started in 2003, enables millions of individuals and small businesses to sell products. Tmall.com provides a virtual shopping mall, with retailers and brands offering products, and Juhuasuan operates a flash-sales model. The three sites accounted for 82 percent of Alibaba's sales in the year through March.
"Alibaba is not the creation of a few technology innovations or a couple of whiz kids," Ma said. "We have developed an ecosystem that has been built by tens of millions of participants."
The founder not only sees Alibaba as a way to do business. The company can help bridge the gaps between China and the West caused by differences in culture, values and political viewpoints, he said.
"When an Internet company of our scale that originated from China enters the global scene, you should expect that it will encounter skepticism," Ma said. "While it may be difficult for a public Alibaba to sidestep controversy, we hope that controversies generate constructive debate and add fresh perspectives to the dialogue on globalization."
Alibaba will rely on a legal structure known as a variable interest entity, or VIE, required by the Chinese government for foreign ownership in certain industries, including the Internet.
Jack Ma has a net worth of $21.9 billion and is China's richest man, according to data compiled by Bloomberg.