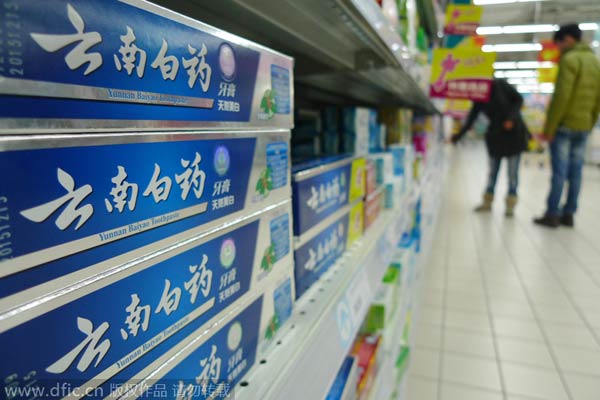 Yunnan Baiyao toothpastes of Yunnan Baiyao Group are for sale at a supermarket in Nantong city, East China's Jiangsu province, March 28, 2013. [Photo/IC]
BEIJING - China's time-honored homegrown brands need to stay relevant, emotionally and culturally, to domestic consumers if they want to continuing growing in a fast evolving market, a marketing consultancy report said.
These brands are some of the oldest in China and have a deep understanding of consumer tastes and needs, which means a competitive advantage to provide good products and services, said the added value consultancy, part of UK-based WPP, the world's largest advertising group.
The advantage of Chinese brands also lies in traditional Chinese culture or the heritage of a certain period of history, it said in the report released on early Tuesday.
Most Chinese brands, however, don't have a clear image that stands out from the competition. They are not stylish or modern enough, so it's difficult to attract younger consumers.
Time is a double-edged sword. Although brand heritage can be important in terms of awareness and status, it is only half the story, the report said.
It is equally important for a brand to keep in touch with changing times. Linking tradition with contemporary themes ensures a brand move from "time-honored" to "timeless", it said.
The report used Yunnan Baiyao, one of the country's major pharmaceutical producers which sells traditional Chinese medicine, as an example.
With deep roots in traditional Chinese medicine, the brand blazed new trails in oral care. It has shown how a time-honored brand can ride the wave of consumer trends and build commercial success over time, the report said.
The report also gave recipes for reviving China's time-honored brands. "The emphasis should be on staying relevant, emotionally and culturally, to today's consumers."
China's oldest brands need to keep up-to-date and reflect changing consumer tastes. They also need to realize how consumers are becoming more sophisticated.
These brands really have a good opportunity to capitalize on the growing pride of China and the Chinese themselves. They are well placed to do this by leveraging their history and unique "Chinese-ness", it said.
To do that, they also need to evolve with the times, it added.