Ice campaign has turned the online landscape hot as more tech tycoons join in the challenge. It has swept the Chinese social media and is currently the hottest topic on the Internet. The hashtag, #Icebucket challenge, has already recorded 180 million hits on Weibo, with 165,000 discussions taking place. It is also trending as the most shared topic on charity on Weibo with 140,159 hits on Baidu.com. It has generated 805,000 entries for Chinese keywords "Ice bucket challenge" and 140,000 English ones.
The Ice Bucket Challenge was initiated to raise funds for patients of Amyotrophic Lateral Sclerosis, also known as ALS. It requires that participators must pour a bucket of ice water on themselves and then upload the video of the process on the Internet.
However, if they fail to pour ice water on themselves then they will have to donate $100 to the ALS association. After performing the task, challengers can choose another three people to continue the game.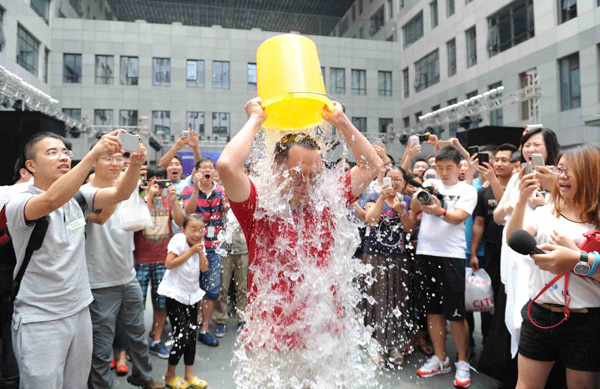 Zhou Hongyi, founder of anti-virus software company Qihoo 360, takes part in the "Ice Bucket Challenge" in Beijing on Monday. The challenge, in which participants are dared to have a bucket of iced water poured over their heads, is aimed at raising money for patients with ALS, a neurodegenerative disorder that is often referred to as Lou Gehrig's disease. [Photo by Yan Tong/for China Daily]