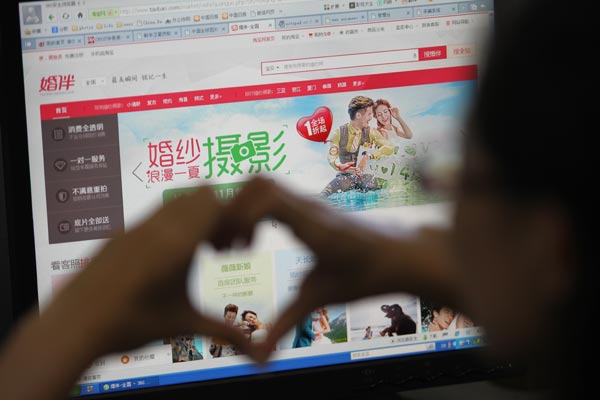 A netizen in Beijing surfs Hunban, a business-to-customer site launched by Hangzhou-based e-commerce group Alibaba. The site aims to connect clients with customized photography services online. [Photo/China Daily]
Planning a wedding can be a stressful affair, especially when you have a limited budget.
To help ease the stress, e-commerce giant Alibaba Group Holding Ltd, which is known as China's "everything store", rolled out on Monday a service dedicated to bringing together qualified wedding photographers and love birds pining for that perfect wedding.
The Hangzhou-based e-commerce group launched its first business-to-customer site called Hunban, which roughly translates to "wedding partner". The site aims to connect clients with customized photography services online.
The launch of the site marks Alibaba's latest push into the services sector. It has already invested in Kuaidi, a taxi-hailing app, and Meituan, a group-buying site.
Chen Guiyi, who is in charge of Alibaba's local life service business unit, said that the company expects to launch more marriage-related services, such as wedding planning and catering, to meet the booming demand of Chinese couples.
Chen said that the wedding celebration market is estimated to reach 800 billion yuan ($130 billion) in China this year. "Nearly 90 percent of those who get married need to take wedding photos, which creates a very promising market," he said.
According to Alibaba, Hunban mainly focuses on providing local as well as traveling wedding photographers, the latter intended for newlyweds who wish to commemorate their honeymoons with professional pictures.
About 2,000 photography studios have set up virtual shops on Hunban, which offers plenty of options for those wanting to get their photos taken in Beijing, Hangzhou in Zhejiang province, Sanya in Hainan province, Qingdao in Shandong province or Lijiang in Yunnan province.
The site also offers wedding photos abroad. So far, photography services on Hunban are being offered in such countries as Thailand and Indonesia.
Alibaba hopes to lure an increasing number of photography companies and studios to settle on its platform, said Chen.
Lin Wenbin, an analyst with Analysys International, said Hunban will serve to boost user loyalty.
"The majority of Alibaba's users are young people under the age of 35. And a large proportion of them are at the age to get married. The new site can attract their attention and may eventually lead them to purchase other things on Alibaba's online platforms," he said.
Yu Fang, who recently had wedding photos taken in Beijing with her husband, welcomes having a website on which couples can compare prices and read ratings of the various services before making a decision to hire a photographer.
"It is hard to believe you can spend nearly 10,000 yuan for one day just taking photos," she said, adding: "Some of those photography studios rip people off because they know they are willing to pay a lot for their once-in-a lifetime wedding."