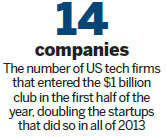 Kabam Inc, a producer of games for mobile devices, received a $120 million investment from Alibaba Group Holding Ltd as part of a plan to distribute titles including Lord of the Rings in China.
The money will be used to finance growth, and an executive from Alibaba will join Kabam's board, according to a statement on Thursday from the San Francisco-based company, which is now valued at more than $1 billion. Other details of the investment were not disclosed.
The accord gives Kabam a tie with China's largest e-commerce company. Kabam had 2013 sales of more than $360 million, double the previous year. Alibaba is preparing for an initial public offering in the United States that may value its business at $154 billion, according to the average estimate of five analysts surveyed by Bloomberg.