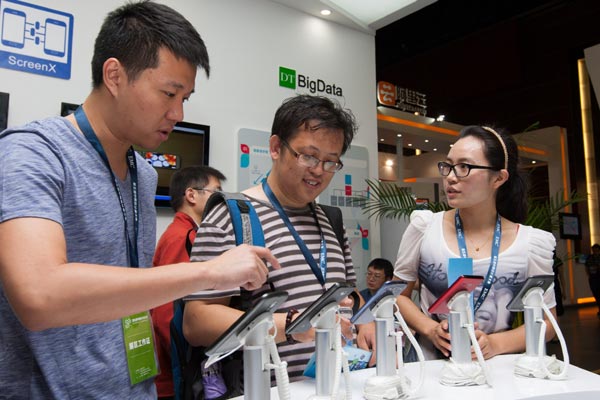 A technician (left) introduces Baidu's cloud service at the 5th China Cloud Computing Conference, which was held in Beijing. Through analyzing the search requests on Baidu Map, a service used on computers and mobile devices, Baidu can help predict traveling trends and assist transportation departments in better managing traffic. [Photo/China Daily]
Big data is often known as next-generation technology, but attempts made by large Chinese Internet firms have shown that the technology is not that far from today's everyday life.
Shenzhen-based
Tencent Holdings Ltd
, one of China's largest Internet companies, is working on a system to rate people's creditworthiness using their social networking relationships. Through big data technology, your social networking friends, along with the "likes" you get from them, are evaluated and quantified and become an influential asset for your credit score.
Meng Zhaoli, chief economist with Tencent Institute for Internet and Society, a think tank that studies the Internet's influence on laws, policies and economies, is a firm believer that Chinese companies will become a major force driving the world's big data wave.
"The biggest asset Chinese companies have is the country's large Internet-loving population," said Meng, who has followed China's technology, media and telecom sector for more than a decade.
Compared with Western firms, which enjoyed an advantage in the personal computer-based Internet era, Chinese companies have shown strong growth momentum in the mobile Internet era.
"Not only does China have a large number of mobile Internet users, but the way that Chinese netizens use mobile phones in every aspect of their life is the fundamental reason that China will become a world leader in big data," she said.
The latest statistics from the China Internet Network Information Center, a government-backed administrative body, showed that Chinese netizens totaled 632 million at the end of June, and 527 million of them logged onto the World Wide Web on their smartphones.
Through analyzing the search requests on Baidu Map, used on computers and mobile devices, China's search giant Baidu Inc already offers a service to predict traveling trends and help transportation departments better manage traffic.
Examining the connection between the price of goods sold online and China's official consumer price index, Alibaba Group, the country's largest e-commerce company, has succeeded in predicting CPI months earlier than the National Bureau of Statistics.
But rather than challenging traditional industries, big data technology is mainly a tool to improve the efficiency and accuracy of traditional methodologies, Meng said.
She used the population census as an example, saying that the time-honored way of doing a census is to take samples and then do the survey. With people migrating and with the process being lengthy, census results usually are delivered several years later.
"But if you use data generated by netizens, you don't need to do sampling, and the data is real time," Meng said.
Despite its advantages, however, big data is not going to spread across China overnight, she said. "The technology itself is not the issue here. How to get people's permission to use their private data and how to build a mechanism to make organizations share their data with each other are the top challenges."
She said data-intensive industries, such as finance and insurance, were among the first to embrace big data technology. But for the technology to make inroads to more conservative sectors, such as healthcare, will require government support.