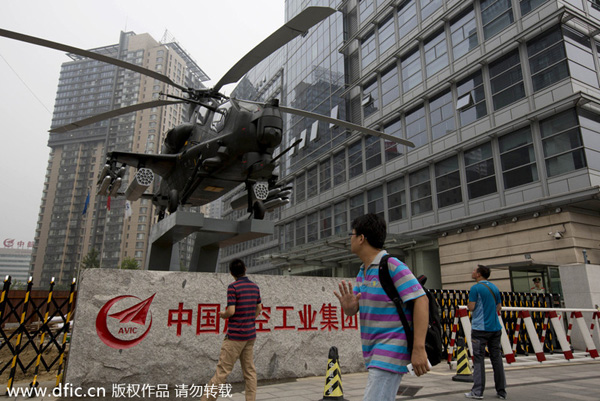 A WZ-10 attack helicopter is displayed in front of the office building of Aviation Industry Corporation of China (AVIC) in Beijing, July 16 2014. [Photo/IC]
BEIJING - Aviation Industry Corporation of China (AVIC) and French plane maker Safran will set up a joint venture in China to make turbine engines.
The two companies signed a memorandum on Wednesday announcing each side will have a 50-percent stake. They will research, design and make core components of turbine engines for civil service in China.
AVIC and Safran expect to sign a framework agreement during the 10th China International Aviation & Aerospace Exhibition in November.
Details of the agreement have not been unveiled.
Lin Zuoming, board chairman of AVIC, hailed the tie-up as "a breakthrough" in the company's cooperation with Safran.
Marc Ventre, deputy CEO of Safran, said the agreement will combine both sides' most advanced technology and enable the venture to become a world-class turbine engine components maker.
Collaboration between AVIC and Safran dates back to 2009 when they agreed to make landing gears and brake devices together. They then extended cooperation in other fields through a string of deals.