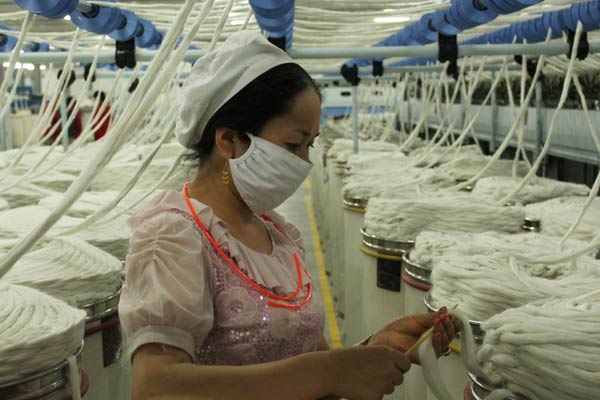 A worker at a local textile mill in Xinjiang. The autonomous region, which produces about 60 percent of China's cotton with less than 40 percent of the country's cotton-growing area, plans to create jobs for 1 million people for the region's textile industry within the next decade. Gao Bo / China Daily
The Xinjiang Uygur autonomous region, China's prime cotton-growing area, plans to pump some 20 billion yuan ($3.2 billion) into its textile industry to create jobs and maintain social stability, local officials in its Beijing representative office said on Friday.
"The push for textile development will create more jobs in the sector," said Yan Qin, a top official of Urumqi. "It is not only a matter of economic returns and social benefits, but also a political issue."
He said that Xinjiang, which produces about 60 percent of China's cotton on less than 40 percent of the country's cotton-growing land, aims to create 1 million jobs in the textile industry within the next decade.
A fund worth 20 billion yuan will be set up to build textile industrial parks, upgrade technology and provide subsidies for textile enterprises, Yan said.
Xinjiang will give special support to projects related to cotton textiles, printing, dyeing and finishing, hand-crafted carpets and knitting, the local government said.
Other support such as financing, operating subsidies and lower taxes will also be given to companies settling in the region.
Local officials said the policy focus will favor the underdeveloped southern part of the region. The southern Xinjiang city of Aksu, one of the major cultivation areas, is one area where the government aims to improve employment.
The move is part of Beijing's call to attract more labor-intensive textile manufacturers from the eastern cities to Xinjiang to open up employment opportunities for local people.
The employment drive, crucial to regional security, has become part of the strategy.
More than 40 textile enterprises, most of which are major players in the sector, have invested in the region, including Shandong Ruyi Group, Huafu Top Dyed Melange Yarn Co and menswear manufacturer Youngor Group Co Ltd.
Zhejiang Giant Eagle Group Co Ltd will invest 50 million yuan to build a garment-processing base in Aksu. Huafu established a plant in the city in 2010 to produce dyed yarn. Youngor Group announced in 2013 it would raise 3.9 billion yuan for a clothing project in the city.
An official at the Xinjiang government's textile industry management office said that the region will build Xinjiang into an export hub as well as a domestic textile production base in the coming years.
"More effort will be made to extend the industry chain and improve the competitiveness of the cotton industry," he said.
The output of Xinjiang's textile industry hit 212.5 billion yuan in 2013, according to official data.