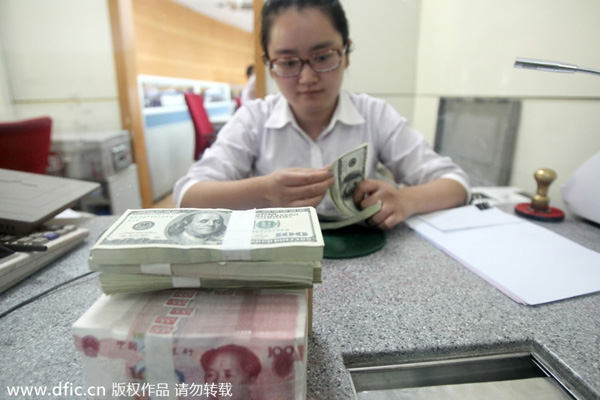 A Chinese clerk counts US dollar and yuan banknotes at a bank in Nantong city, East China's Jiangsu province, September 23, 2013.[Photo/IC]
BEIJING - The exchange rate of the Chinese currency yuan, is basically in equilibrium, said a report released on Wednesday by the International Finance Research Institute under the Bank of China, a major State-owned bank.
The institute based its judgment on a common methodology which looks at the ratio of a country's trade deficit to its gross domestic product (GDP). A 3-percent ratio is generally regarded as an indicator of an equilibrium in real exchange rate.
Based on such a measurement, the yuan exchange rate is now already at an equilibrium level, the report said.
China's current account balance to its GDP has declined from 10 percent in 2007 to 2.1 percent in 2013, according to the report.
It noted how the yuan had appreciated by more than 12 percent by January this year since the central bank deepened reforms to the formation mechanism of the yuan exchange rate back in June 2010. However, the currency headed toward months of depreciation against the US dollar, after the central parity rate of the yuan hit a new high against the dollar on Jan 13, at 6.095.
On Wednesday, the central parity stood at 6.1549 against the US dollar, according to the China Foreign Exchange Trading System.
In China's foreign exchange spot market, the yuan is allowed to rise or fall by 2 percent from the central parity rate each trading day. The central parity rate of the yuan against the US dollar is based on a weighted average of prices offered by market makers before the opening of the interbank market each business day.
The greater two-way fluctuations of the yuan may become a normal trend in the future and will be more influenced by the market, the report forecast.