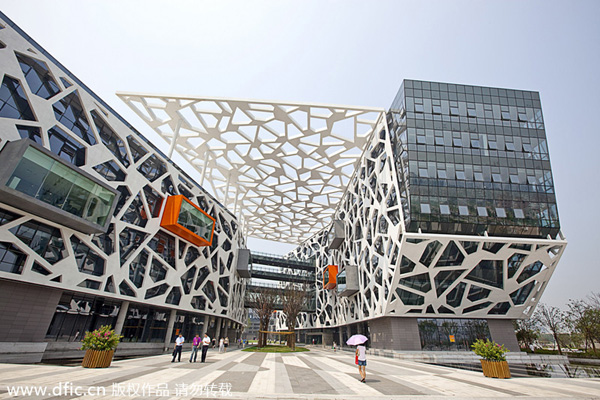 Photo taken on Aug 21, 2009, show a view of Alibaba building located in Hangzhou, capital of Zhejiang province. [Photo/IC]
Growth in online shopping in counties and villages has outpaced those in cities, becoming a new engine that is further driving China's domestic consumption, according to research from Alibaba Group Holding Ltd, the country's largest e-commerce group.
It said in its first county-level economy and e-commerce forum in its headquarters in Hangzhou on Thursday that the overall online shopping market in China reported a growth of 50 percent year-on-year in 2013. The growth rate of online transactions in counties and villages in the same year was 13.6 percentage higher than that of cities'.
Apart from those who enjoy shopping online, an increasing number of businessmen in China's counties and villages are making a living on the Internet by setting up their online stores.
According to statistics from Taobao and Tmall, the two main online marketplaces of Alibaba, residents in counties and villages in China received a total of 1.8 billion packages in 2013 from the purchases they ordered online and sold 1.4 billion packages online in the same year.
Counties and villages in East China still enjoy an edge in e-commerce, thanks to the advanced manufacturing bases in coastal China.
However, the online transactions generated by counties and villages in North China, Central China and South China, have shown stronger growth momentums, accounting for 30 percent of the overall online transactions made by counties and villages in China.