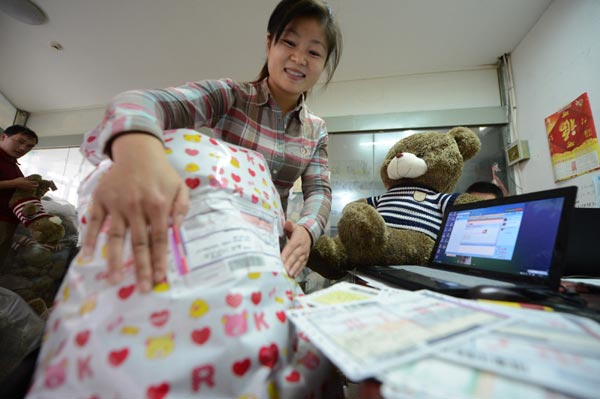 A Taobao shop owner prepares an order for delivery in Yangzhou, Jiangsu province, during the Nov 11 online shopping spree. Meng Delong / for China Daily
Small e-retailers ponder other options as competition heats up at Taobao, Meng Jing reports.
Those who enjoy shopping without leaving home are clicking onto Taobao, where almost every necessity is catered to on the online platform of Alibaba Group Holding Ltd, from home appliances to clothes, plane tickets to puppies. But while shoppers can have the world at their fingertips, running a store on Taobao is a different order. Chen Xiaogang, a Shenzhen-based e-retailer, who has run a shop on Taobao for seven years, has decided to change his business focus from the giant online platform with millions of e-retailers to other platforms. "The opportunities to make a fortune (on Taobao) are small but the risk of losing money is rather high," said Chen, whose team of 40 people generated about 20 million yuan ($3.22 million) in revenue in 2013 by selling women's clothing.
Despite the appearance of success, Chen insisted that the marketing investment to make his company stand out from the cutthroat competition is a heavy burden.
"We spent 1 million yuan on advertising alone last year to ensure our shop was not buried by others offering similar products on Taobao. For each click on our banner, 1 yuan went to Taobao, but not every click leads to a successful sale," he said.
This year he has invested in a smaller online marketplace platform called Mogujie.
Chen's may be an increasingly typical case as more and more e-retailers consider their options but Alibaba is doing well, and is lining up an initial public offering in the US that could value the company at around $140 billion. This suggests that those e-retailers considering other options are small scale.
Mo Daiqing, senior e-commerce industry analyst at the Hangzhou-based research company China e-Business Research Center, said that it is inevitable that e-retailers, especially small ones, will look at alternatives.
Statistics from Mo's center showed that the number of private customer-to-customer (C2C) e-retailers in China was down 17.8 percent year-on-year to about 11.22 million by the end of 2013. No specific data about how many of those closed shops were based on Taobao was released but the e-commerce site did account for about 96.5 percent of China's C2C market in 2013.
"With the maturing of the online retail market in China and increasing demands of online shoppers, private C2C e-retailers have to consistently improve in terms of providing better quality and better after-sales service amid fierce competition," Mo said.
"It is all about survival of the fittest. We project the number of private-owned C2C players will drop to 9.18 million by the end of this year," she said.