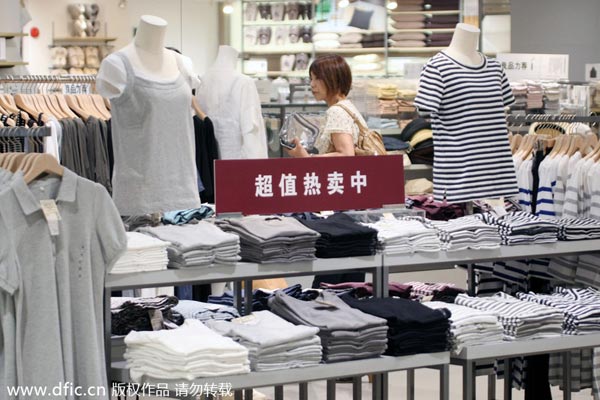 A customer shops in a Muji store at Yueda 889 Square, Shanghai. [File photo/dfic.cn]
Fast fashion is so quick off the mark, it's leaving the luxury brands behind, reports Shi Jing from Shanghai
Even though fast-fashion brands have long been denounced as copycats of luxury apparel, the latter is now finding itself behind the development pace of the younger upstarts, especially in China.
Japanese lifestyle brand MUJI opened 42 stores last year to realize its goal of having 100 outlets in China by the end of 2013. Japanese fast-fashion brand Uniqlo has meanwhile been boldly mapping out its 1,000-shop plan in China.
According to statistics released by linkshop, the leading Chinese retailing portal, Uniqlo opened 82 new stores in China in 2013, bringing the total number to 257. H&M had a total of 176 stores in China with the 62 new stores opened last year. Zara opened 18 more stores in 2013 to bring the total number 137. US brand Gap opened 28 new stores, giving it 71 stores in China. In short, there were about 1,000 fast-fashion stores in China by the end of last year.
However, the performance of luxury brands was less eye-catching, although some companies did reach further into the Chinese market. Ralph Lauren opened 26 new stores in China in 2013, six more than the number of new stores it opened the previous year. Chanel opened three more, and Fendi opened four new stores.
Jonathan Seliger, president and chief executive officer of Coach China, said the company remained in line to open about 30 new stores in China both in tier-one cities and lower-tier cities. But the big picture is not so rosy.
However, Paul Smith, Prada, Burberry, Hermes and Longchamp, among others, all failed to meet their expansion targets in 2013.
Following Louis Vuitton's announcement of opening no more new stores in tier-two and tier-three cities in China, Gucci also confirmed that it would not open any new stores in the country in 2013. Giorgio Armani closed its store on the Bund in Shanghai last year. It had stood there for about a decade. Dolce & Gabbana closed its store on Bund 6. In succession, Patek Philippe and Boucheron closed their stores on Bund 18.