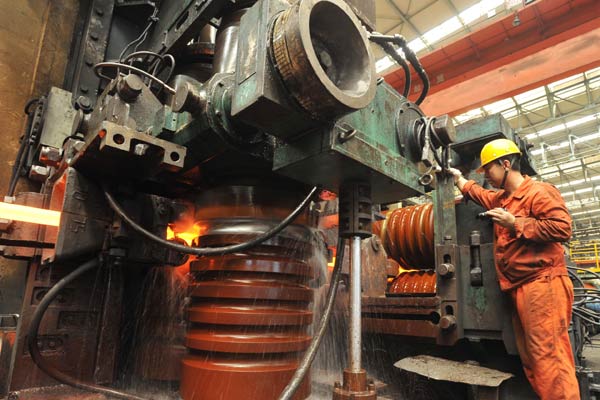 An employee works at a rod machine at a special steel plant in Dalian, Liaoning province. Although economic growth has stabilized, downward pressures still remain, said a Bank of China report.LIU DEBIN/CHINA DAILY
Strategic sectors to benefit from govt measures to boost expansion
Fiscal policy is expected to play a larger role in supporting second-half GDP growth, while the scope of "targeted" monetary easing may expand, Bank of China Ltd's research unit said in a report on Wednesday.
The report, released by the Institute of International Finance, said that although growth in recent months has stabilized, downward pressure has persisted, so more supportive policies are needed.
Fiscal policy could play a broader role, with larger expenditures and a wider deficit, the report said. More money should be spent on railway construction in inland regions, urban renovation, energy efficiency and urban infrastructure, which would translate into higher investment growth.
The government would also further ease companies' tax burdens and allow more cities to make independent issues of municipal bon
ds
, the report said.
"The fiscal deficit was 2.2 percent in 2013. It could be higher this year, as long as it doesn't exceed 3 percent, an international warning level," said Zhou Jingtong, a senior researcher at the institute.
Shenyin & Wanguo Securities Co Ltd and China Minzu Securities Co Ltd have also forecast increased fiscal expenditure, specifically on infrastructure, in the second half.
Fixed-asset investment growth in May did not deteriorate much despite slumping real estate investment growth, mainly because of accelerated infrastructure spending.
Infrastructure investment in the first five months rose 25 percent year-on-year, 2.2 percentage points faster than in the first four months, according to the National Bureau of Statistics.
On the monetary policy front, BOC forecast more "targeted easing" toward sectors that are regarded as "strategically emerging industries" such as renewable energy and alternative-fuel vehicles.
The next cut in the reserve requirement ratio-the amount of money banks are required to set aside-could also be larger than the most recent trim.
To spur lending to agriculture and small businesses, the central bank in early June cut the reserve requirement ratio by 0.5 percentage point for commercial banks that have extended a certain portion of their loans to agriculture and small businesses.