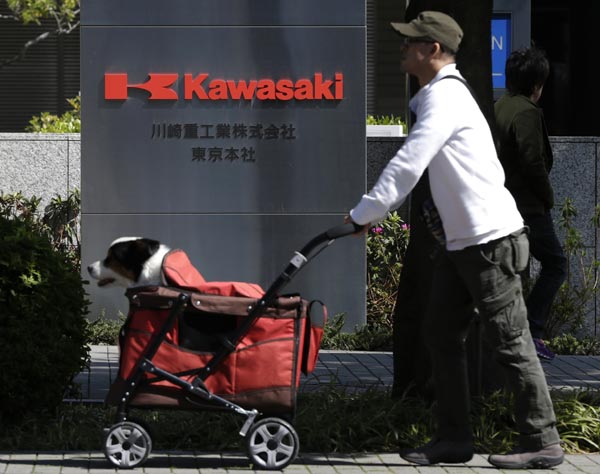 A man pushing his dog walks past a signboard of Kawasaki Heavy Industries Ltd at the company's Tokyo Head Office. Kawasaki Heavy estimates costs at its Chinese facilities are as much as 20 percent lower than at South Korean yards. Reuters
Japanese shipbuilder Kawasaki Heavy Industries Ltd plans to construct gas carriers abroad as it strives to lower costs and take market share from South Korean rivals.
At present currency levels, the company's Chinese ventures are more cost competitive than South Korean shipyards, Akio Murakami, head of Kawasaki Heavy's shipbuilding and offshore division, said in Tokyo.
"Our Chinese venture, Nacks, has built a variety of vessels so far, and LNG and LPG carriers are the only area that has yet to be handled," Murakami said in the June 13 interview, referring to liquefied natural gas and petroleum gas. "Once we get the first contract and deliver a good vessel, many orders will follow."
Kawasaki Heavy, based in the western port city of Kobe, estimates costs at its Chinese facilities are as much as 20 percent lower than at South Korean yards, Murakami said.
The company gained a foothold in China in 1995 by forming a venture with China Ocean Shipping Group Co in Nantong. While the venture builds large-sized bulkers and very large crude carriers, the company constructs LNG carriers only at its yard in Sakaide on the southern Japanese island of Shikoku.
Kawasaki's push reflects the broader challenge facing Japanese shipbuilders to win back contracts from South Korean rivals currently controlling about 80 percent of the market for LNG vessels. In the midst of Japan's needs for cheaper energy after the 2011 Fukushima nuclear accident, Kawasaki and other domestic shipbuilders are counting on upcoming contracts for gas carriers used to ship gas from US shale projects.
Japan's four major shipbuilders including Kawasaki have together bid to build vessels that will carry LNG from the Cameron terminal in the US state of Louisiana when shipments begin in 2017, Murakami said. Mitsui & Co plans to secure 10 LNG tankers for the project, he said.