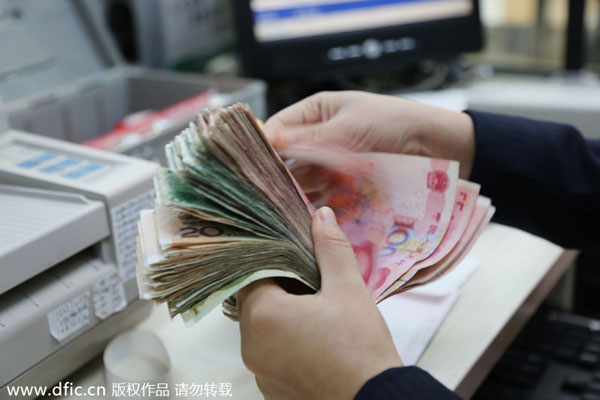 A Chinese clerk counts yuan banknotes at a bank in Xuchang, Central China's Henan province, Dec 8, 2013. [Photo/IC]
Demand for wealth management services in China has increased rapidly amid fast economic growth in recent years, but a huge gap remains when it comes to the provision of those services, said panelists at the Jinjialing Fortune Forum 2014 in Qingdao, Shandong province.
The market for wealth management products stood at 12.8 trillion yuan ($2.1 trillion) at the end of May. The market is growing 30 to 40 percent a year, down from 60 to 80 percent in recent years, said Pan Gongsheng, deputy governor of the People's Bank of China, at the forum on Saturday.
"China will maintain fast economic growth and wealth accumulation in the foreseeable future. Therefore, how to ensure the preservation and appreciation of Chinese citizens' financial assets is not simply a financial problem but a major economic and social problem. It concerns the adjustment of income distribution and the transition of the nation's economic development pattern," said Pan.
The PBOC will support reform and innovation in wealth management services and explore relevant experience that can be reproduced and extended to other cities, he said.
At present, a large amount of the nation's savings is channeled into real estate, as well as wealth management products and trust products, said Edmond Alphandery, chairman of the Euro50 Group and former French economics minister.
It's in the national interest that long-term savings be invested in a wider range of sophisticated products. That will contribute to improve the satisfaction of Chinese investors and also reduce volatility in the financial market, Alphandery said.
According to conservative estimates, China has 1.05 million multimillionaires who form a fairly large group of high-end clients for wealth management services.
"However, if such excellent services are mainly provided to high net worth individuals while ordinary people get lower-quality services, the income gap will widen. That has already caused serious problems related to social equality. The social ground for the development of the wealth management market will also become vulnerable," said Song Liping, president of the Shenzhen Stock Exchange.
She noted that the wealth management market should be built on a wider and more solid social basis by reaching a larger population.
These clients, although falling outside the high net worth group, also have a strong demand for wealth appreciation, as shown by the success of Yu'ebao, launched a year ago by Alibaba Group Holding Ltd.
The fund has more than 100 million users and the capital raised hit 541.3 billion yuan by March 31.