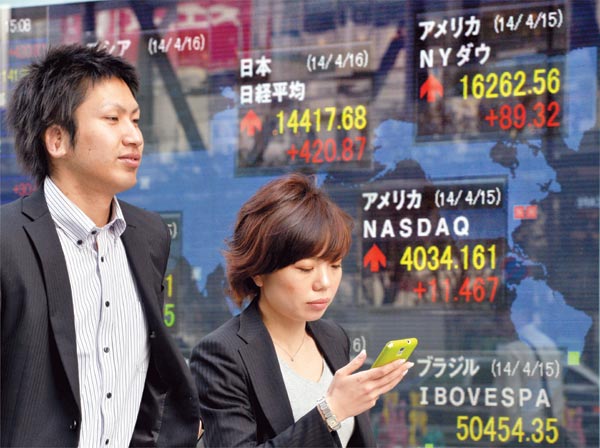 Pedestrians walk past an electronic stock indicator outside a securities firm in Tokyo. Many biotech companies, both domestic and foreign, have successfully listed their shares on the Japanese stock exchange with good results. [Photo/AFP]
Innovation can help biotech companies cut costs, boost profits
The bull run that has defined the global biotechnology space is not showing any signs of slowing down, but if countries in Asia plan to take advantage of the growth of the space in the long run they might have to develop better funding and innovation strategies.
Since 2009, biopharma companies that were once the smaller cousins of giant global pharmaceutical companies have seen their value, by market capitalization, escalate.
Not only are they selling many more drugs and acquiring more companies around the world, but the largest in the world are now big enough to stand shoulder to shoulder with the pharmaceutical majors.
Gilead Science Inc, for example, was worth $47 billion by market capitalization in 2009 and is now worth $122 billion. Celgene Corp, another US company, was worth $25 billion and now has a market valuation of around $60 billion. Going forward, their growth is likely to be driven by acquisitions and many of those will be in Asia.
The bull run has not gone unnoticed in Asia, which led the number of new healthcare initial public offerings last year with 92, up from 56 in 2012. Those IPOs raised a combined $10.9 billion.
This year "could be a bumper year for Asian exchanges", said accountancy firm Ernst&Young in its Global IPO Update earlier this year.
In China, for example, biopharma companies feature prominently on the list of proposed IPOs since the China Securities Regulatory Commission lifted a ban on new offerings at the end of 2013. Since May, as many as 23 different biotech companies have announced plans to issue new shares. Five of these are biopharma companies.
Du Zuoyuan, a healthcare analyst at Guosen Securities in Shenzhen, says the size and scope of biotech IPOs is likely to get bigger because of what he called an "industry uptrend".
The growth of the sector is also visible in Japan, where the Tokyo Stock Exchange has attracted both domestic and foreign companies. Among them is Acucela Inc, which specializes in eye diseases and raised $162 million in Tokyo in February.