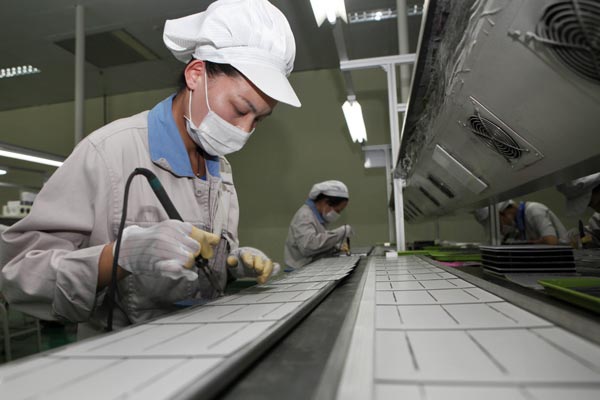 The production line of a solarpanelmaking company in Lianyungang, Jiangsu province. Chinese solarpanel makers said on Thursday that the EU's "violation accusations" are "baseless and smack of trade friction." Si Wei / For China Daily
Chinese solar panel makers have denied charges that they are in "massive violation" of a settlement between China and the European Union that ended a bitter trade feud between the two sides last year. In a statement issued on Thursday, the Chinese companies said that they are being targeted unfairly and the accusations made by the key European lobby are "baseless and smack of trade friction."
"The accusation is groundless and not verified. Spreading such information will damage the implementation of the current minimum price agreement between China and the EU," said a statement released by the China Chamber of Commerce for Import and Export of Machinery and Electronic Products.
On June 5, the European solar industry initiative EU ProSun submitted over 1,000 pages of documentation to the Directorate-General for Trade of the European Commission "containing about 1,500 proposals by Chinese solar companies offering prices below the minimum level agreed by the EU Commission and China," said a statement from the lobby group.
China and the EU were on the brink of major trade war last-year, after the 28-member bloc alleged that Chinese solar companies had received massive government subsidies and were selling products in the European market at prices below fair valu he dispute was settled after both sides agreed to a minimum price up to a certain threshold of imports.
Milan Nitzschke, president of EU ProSun, claimed that the EU trade rules are being "systematically violated" by Chinese manufacturers and called for the review of "the entire minimum price agreement".