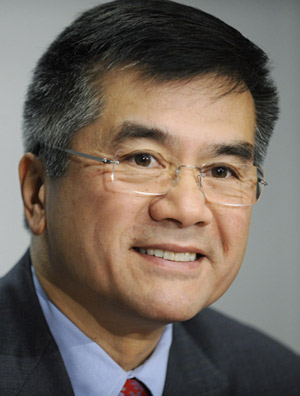 File Photo /

Agencies
NEW YORK - Former US ambassador to China Gary Locke said Wednesday that he is very positive on the economic relationship between China and the United States.
"Our two-way trade keeps growing. Millions of jobs on both sides of the Pacific depend on this growing economic inter-dependence," he said after a panel discussion entitled "Perspectives from Former US Ambassadors to China" held by the National Committee on United States-China Relations in celebration of the 35th anniversary of the establishment of US- China diplomatic relations.
It's a "win-win situation" for the people from both counties, noted Locke, who is the first Chinese American to serve as ambassador to China. "Our trade benefits both sides," he told Xinhua.
"China has enormous needs, whether it's feeding its people and buying soybeans from America or cleaning up the air to providing medical technology. It's meeting the goals of the people of China, the government of China, but also creating jobs in America," said the former secretary of Commerce and governor of Washington State.
"Obviously China's economic growth rate is not as strong and as fast as it was in previous years, but it's still very impressive growth," Locke said.
"The Chinese government is looking at more economic reform that will spread prosperity to more people throughout China," which includes allowing more market forces to control, reducing the role of state-owned enterprises and promoting rule of law, he said.
Locke said that he is very encouraged by the economic and other reforms that have been proposed, while stressing that "we are just going to have to wait and see as to how well the Chinese government can implement these policies."
Also at the event are four other former US ambassadors to China, Jon M. Huntsman, Jr., Joseph W. Prueher, J. Stapleton Roy and Winston Lord.
Established in 1966, the National Committee on United States-China relations is a private, nonpartisan nonprofit organization that encourages understanding of China and the United States among citizens of both countries.