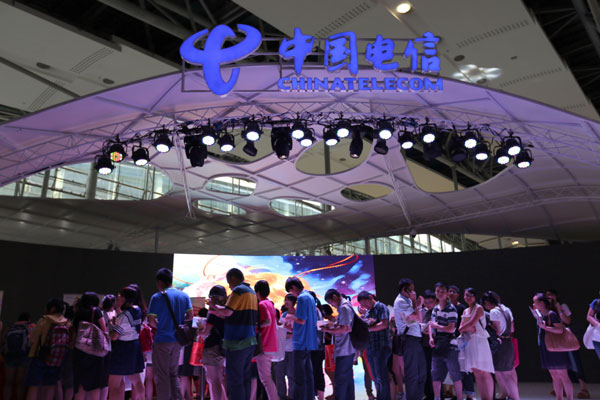 China Telecom promotes its 4G services in Guangzhou, Guangdong province. The company is seeking private investors for emerging telecommunications services such as online payments and social networking. Liu Jiao / For China Daily 
China will see an increase in private capital investment in telecommunication services, China News Service reported, quoting Miao Wei, minister of industry and information technology (MIIT).
The keys behind attracting private investors into telecommunication services are to initiate pilot project in mobile telecom resale, to reprocess the IDC (Internet Data Center) and ISP (Internet service provider) applications and to push forward the pilot projects in broadband access network, said Miao.
Virtual operators have been operating in mobile telecom resale business since May.
The MIIT had issued licenses for mobile telecom resale business to 19 private companies by the end of 2013, a major step forward in the opening of the basic telecom industry to private capital.
Letting private capital enter broadband access network services enables private companies participating in the construction and operation of China's basic telecommunication services, Miao said.
"Competition between mobile telecom resale companies and traditional companies is inevitable," said Miao, "however, hopefully it will not result in a price war."
"We value mobile telecom resale companies' advantage in developing more and better products and services and raise the price-performance ratio of the products," said Miao.
He added that competition could force companies to enhance broadband access network service abilities and reduce the cost considerably.
According to Miao, the challenges in monitoring and managing the industry will emerge after the change.
China will improve policies and create a good environment for private capital as well as enhance monitoring so that the private capital could not only enter, but to also stay in the game, said Miao.
Alibaba to launch telecom services in June
Mobile Internet business booming in China
Baidu taps into mobile payment