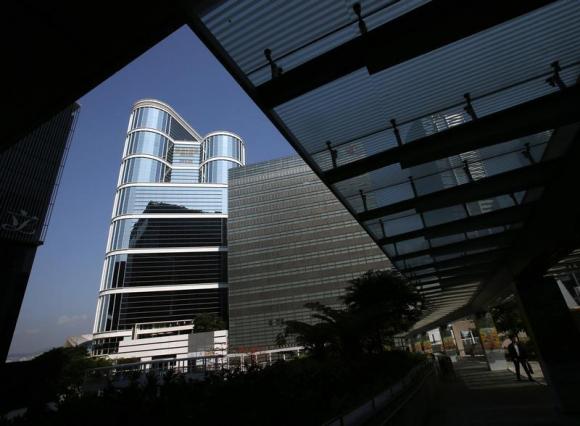 A man walks on a footbridge outside CITIC Tower, the corporate headquarters of CITIC Pacific Ltd, in Hong Kong March 27, 2014. [Photo/Agencies]
CITIC Pacific Ltd said it had secured $5.1 billion to help fund the purchase of some $36 billion in assets from its State-owned parent company, as strategic investors lined up to give the landmark deal their blessing.
The deal, which is essentially the injection of CITIC Group Corp's main operating business into the Hong Kong-listed company, is part of a wide-ranging reform of China's State-owned enterprises.
The fifteen strategic investors funding the deal include a group of Chinese State-backed entities purchasing about $4.1 billion worth of shares and overseas investors buying about $1 billion, the company said late on Wednesday.
China's National Social Security Fund will be the biggest investor, a
gree
ing to buy HK$16.8 billion ($2.2 billion) of shares.
Insurer
AIA Group Ltd is buying $300 million, while sovereign wealth funds Qatar Holding and Singapore's Te
mas
ek Holdings will contribute $200 million and $100 million respectively. Japan's Tokio Marine Holdings and Mizuho Bank will also contribute $100 million each.
CITIC Pacific's independent financial advisor said the terms and conditions of the deal were "fair and reasonable" and its independent board panel recommended it to shareholders.
Assets being acquired include stakes in several large financial services businesses such as CITIC Bank and CITIC Securities, as well as a holding in CITIC Heavy Industry and others in real estate, natural resources and telecommunications.
Funding for the huge asset purchase will also include a stock issue worth 177.01 billion yuan ($28.4 billion) by CITIC Pacific to CITIC Group at a price of HK$13.48 per share, on top of the cash portion raised from the strategic investors.
The deal needs to be approved at a shareholders' meeting on June 3, and is expected to be completed by August 29. The company also plans to change its name to CITIC Ltd.
CITIC Pacific had initially planned to sell $8.1 billion worth of shares to strategic investors to comply with Hong Kong's requirement for a 25 percent minimum free float, but it was able to secure a waiver to the rule for a lower 15 percent threshold.
CITIC Group, China's oldest and biggest financial conglomerate, was established in 1979. The company has 11 stock market-listed entities.
The asset purchase will give a much-needed boost to CITIC Pacific after it miscalculated the huge cost of developing a mine in Western Australia.