Current standards on indoor air cleaners, enacted in 2008, don't take into consideration the need for consumers to filter PM2.5 (particulate matter up to 2.5 micrometers in size) or increased use by consumers, according to Song Guangsheng, director of the National Indoor Environment and Indoor Environmental Product Quality Supervision Center.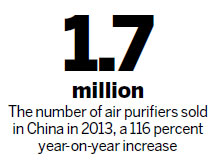 Water purifiers are in no better a place. According to a report by Oriental Outlook, China currently has no national standard for domestic water purification systems, with many small manufacturers making products in workshops instead in standardized plants.
The picture will soon change, however, as China is drafting new national standards for domestic air cleaners and water purifiers, market insiders say.
"We have been working on the new national standards and will take clean air delivery rate as one of the major benchmarks for evaluating the effectiveness of an air cleaner," said Lu Jianguo, a senior engineer with the China Electric Appliance Research Institute and a member of committee helping to draft the new standards.
Clean air delivery rate measures the cubic feet per minute of air that has had particles of a given size removed.
According to Qingyuan Group, a leading water purifier manufacturer that helped draft the standards, they should come into effect in August.