A Dutch electrical engineer recently built his very own air purifier machine for his home in Shanghai.
Niels Jacob Woelders, who moved to Shanghai 10 years ago, first began work on an air purification system for his home in the Zhabei district in 2009. According to Woelders, by using his machine, the indoor index of fine particulate matter, known as PM 2.5, can be reduced to 12 micrograms per cubic meters, compared with over 500 microgram per cubic meters outside.
According to a report from China Securities Journal last December, due to the increasing smoggy weather around Eastern and Central China and air pollution over PM 2.5, air purifier sales in China surged during the second half of November, up 680 percent year-on-year.
Some air purifiers can cause secondary pollution by producing high levels of ozone and can even provide shelter for other bacteria in the air, said Woelders. And according to his research, some air purifier brands do not live up to their cleaning abilities with regard to how much they cost. Although produced by the same manufacturer, an air purifier that costs 2,000 yuan ($330) could provide the same results with others priced at 700 yuan.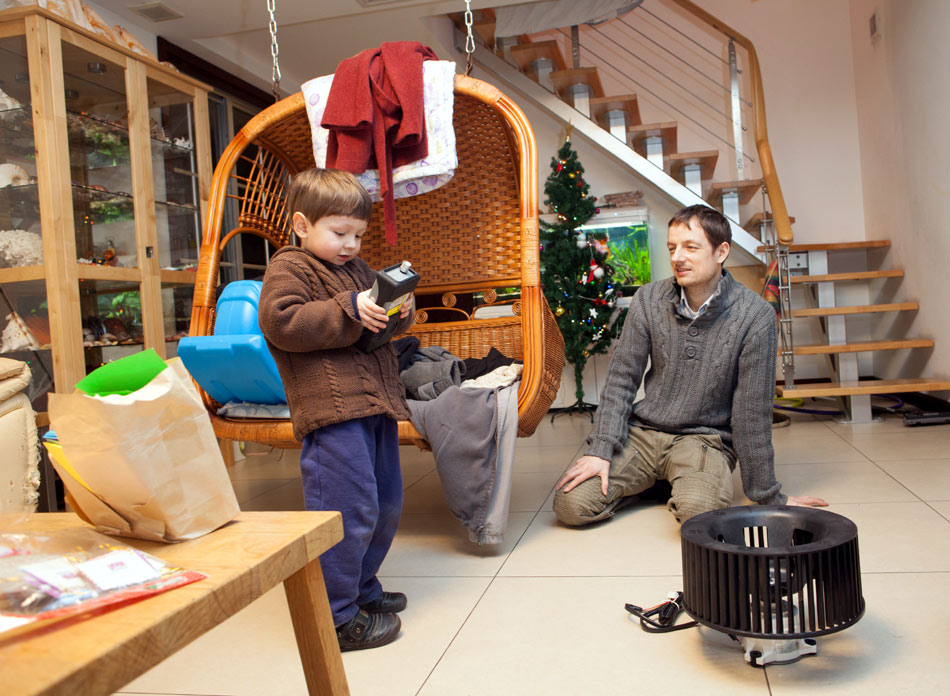 Niels Jacob Woelders and his 3 year-old son Ouya test the air quality in their apartment by using the engineer's US-made portable air pollutant gauge on Jan 15, 2014 in Shanghai. [Gao Erqiang / Asianewsphoto]