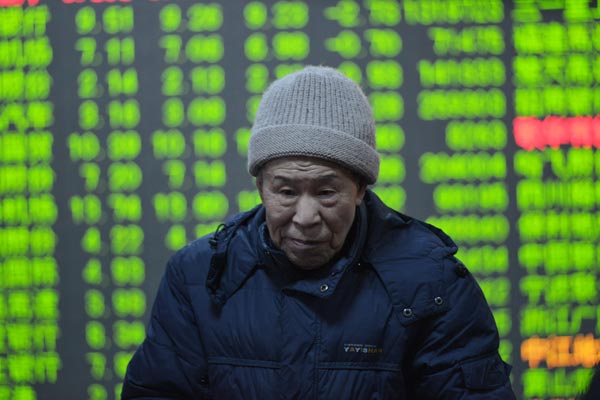 A Chinese investor reacts at a stock brokerage house in Hangzhou, Zhejiang province, Feb 24, 2014. [Long Wei/Asianewsphoto]
Chinese stocks saw a sharp drop on Monday after the securities regulator said it will resume reviewing IPO applications following an 18-month moratorium.
The Shanghai Composite Index lost 1.6 percent before closing at 2003.49, in its largest fall since March 10. The Shenzhen Component Index dropped 1.14 percent to 7240.46. The ChiNext index of small-cap shares dropped 2.7 percent to 1257.26, the lowest level this year.
The sell-off began as investors learned that the issuance examination committee of the China Securities Regulatory Commission, the market watchdog, will start reviewing IPO applications on Wednesday. It had stopped reviews in October 2012 to remake rules and strengthen regulations.
Listed companies with recent reports of poor or below-average performance suffered the greatest hits on Monday.
Financial website Hexun.com said investors fear that new IPOs would dilute the market by redirecting investor attention and money away from existing listed companies.
The CSRC will go through the IPO documents of four companies: Kuaijishan Shaoxing Rice Wine, edg (China) Corp, Guangdong Ellington Electronics Technology, and Nanjing Kangni Mechanical & Electrical.
The China Securities Journal reported that the government would like to see a new round of IPOs begin at the end of May.
Hong Hao, managing director and chief strategist at BOCOM International, said small-cap stocks with high valuation will be hit the most, because "money in the market is limited but the supply of shares is on the increase."
In the long run, new IPOs would be a good thing, said Li Yizheng, vice-president of China Securities. "The market needs fresh blood."