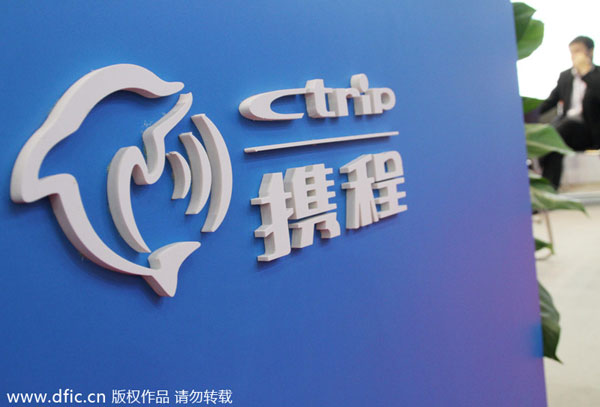 A man visits the stand of online travel agency Ctrip during an exhibition in Beijing. [File photo/icpress]
Proposed deal could reshape the landscape of the nation's fast-growing online travel sector, Wang Wen reports
Since the New Year dawned, cooperation and integration have replaced competition as the main themes driving Chinese online travel agencies.
Acting as a full-service company is the main strategy of Ctrip.com International Inc, the largest online travel agency, and there may be an opportunity for it to get much bigger by swallowing a major competitor.
It's been reported that Ctrip and
Qunar Cayman Islands Ltd
, which operates China's main travel search engine, are discussing a possible merger via a stock swap that could create a company with more than $10 billion in market value.
Rumors have been swirling for about 10 days, but both Ctrip and Qunar - in which Internet giant Baidu Inc has slightly more than a 50 percent stake - have declined to comment.
But internal e-mail comments from both companies do shed some light on the companies' respective stances.
"Ctrip will continue running independently for a long time, and we welcome investment under this premise," said Liang Jianzhang, chief executive officer of Ctrip. Usually, an acquirer leads the integration and development of the combined company, Liang said in his e-mail, and Ctrip's website has a much larger market value and operating turnover than Qunar, whose name means "where to?" in Chinese.
"Ctrip is the largest online travel agency in China, in terms of both value and market share, and the company has the ability to further explore and lead the whole market," the company said in a statement to China Daily.
Zhuang Chenchao, chief executive officer of Qunar, said in an e-mail to staff that all talks were being held on the condition that the management of Qunar would take the lead.
The average age of its senior managers is less than 35, he said, and the company also has achieved faster business growth than competitors in the industry.